Opening benefits financial sector
Central bank chief warns on dangers of protectionism
Zhou Xiaochuan, governor of the People's Bank of China, China's central bank, said further opening up helps to build a strong and competitive financial sector in China.
Zhou said this in a speech on Tuesday in Shanghai at the Lujiazui Financial Forum 2017, an annual meeting focusing on the development of the financial sector and on issues in global economic development.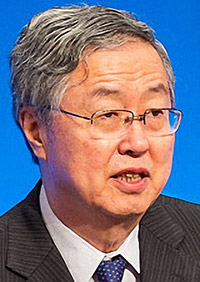 Zhou Xiaochuan, governor of PBOC. [Photo provided to China Daily]
He said protectionism hurts China's financial sector. Protectionism and protectionist behavior limiting the participation of foreign players in China would lead to laziness and weakness, and will lead to weak competitiveness, hurting the industry's development.
"Protectionism ... will lead to unhealthy and unstable markets and institutions", he said.
"Looking back, since China introduced foreign-capital banks to the domestic market, domestic commercial banks have learnt a lot from competition and helped China's financial sector in terms of product evolution, market building, business models, management expertise. China's banks also have improved a lot in terms of efficiency, asset quality and corporate governance through competition-driven equity reforms and public offering," said Zhou.
China's financial institutions, which are also "going global", have benefited, said Zhou.
"A lot of domestic financial institutions have entered the global market and have adapted to international competition, and have experienced substantial changes, particularly in terms of risk management, pricing, and anti-money laundering," said Zhou.
Zhou said development and healthy trends in China's financial market have attracted the attention of the international bond market and emerging market index institutions, which illustrates that the financial services sector is competition-driven and has benefited from opening up.
"China's financial services sector ... is going to further open up," he said.
The second-phase development of renminbi cross-border interbank payment system will operate in Shanghai to facilitate wider international use of the renminbi, and financing projects related to the Belt & Road Initiative, said Zhou.
Zhou said financing for development, such as those playing active and positive roles in the Belt and Road Initiative, will also bring more opportunities to China's financial sector opening up and international cooperation.
While opening up, China's financial sector must always stick to risk-management standards and shall not tolerate highly leveraged, low-capital and non-performing loans, said Zhou.
Shanghai aspires to become a world-class financial hub and shipping services center by 2020, according to the city's long-term plan for the second decade of the century.
By the end of 2016, Shanghai had 1,515 financial institutions, and has attracted more foreign asset management companies.