MSCI to add China's A shares to key index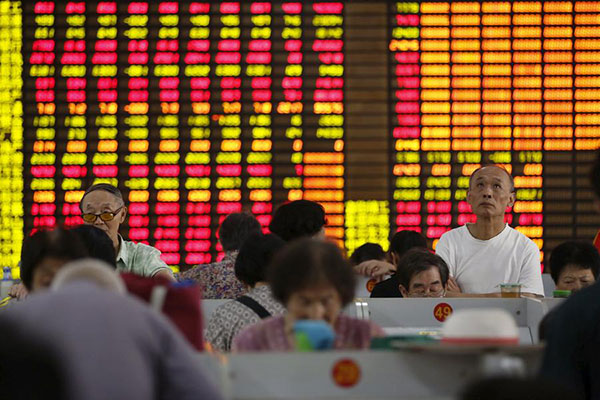 Investors look at computer screens showing stock information at a brokerage in Shanghai, August 13, 2015.[Photo/Agencies]
China's assimilation into the global financial marketplace took another step forward Tuesday when index-provider MSCI Inc said it will include Chinese mainland-traded Chinese equities or A shares in its emerging markets index.
The index giant said 222 China A large-cap stocks will be included on a gradual basis beginning in 2018, in the widely used emerging markets index (EMI), which has about $1.5 trillion of assets benchmarked to it.
Asset managers, pension funds, insurers and individual investors hold passive investments like an exchange-traded fund (ETF) or mutual fund that track an MSCI index like EMI.
"International investors have embraced the positive changes in the accessibility of the China A shares market over the last few years, and now all conditions are set for MSCI to proceed with the first step of the inclusion," Remy Briand, MSCI managing director and chairman of the MSCI Index Policy Committee, said in a statement. "The expansion of Stock Connect has been a game changer for the market opening of China A shares."
The Chinese government opened the Chinese mainland market through the Shanghai-Hong Kong Stock Connect in 2014 and the Shenzhen-Hong Kong Stock Connect last year.
"MSCI's decision to include A shares in its Emerging Markets Index is a pivotal moment for global investment in China's capital markets. While the initial weighting is relatively small, this is the start of a process through which Chinese equities will achieve a prominence in global investors' portfolios that reflects the size and significance of China's domestic stock market and its economy," Helen Wong, chief executive for greater China at HSBC, said in a statement.
Previously, MSCI had delayed the inclusion of the Chinese stocks because of certain investment restrictions.
David Semple, portfolio manager for the VanEck Emerging Markets Equity strategy, said that "in our view, the exclusion of China A shares in prior years was simply postponing the inevitable. China's weighting in current indices under represents its impact on the global economy."
The MSCI decision is likely to provide at least a temporary boost for the Chinese shares that will be included.
"To the extent that index-based products follow this benchmark, then these stocks are likely to benefit, albeit modestly, due to the low initial weighting that is proposed," Semple said. "Obviously, over time, the further involvement of global active funds in the A share market will benefit companies with superior fundamentals rather than simply thematic stories."
Lucy Qiu, a New York-based analyst at UBS Wealth Management, said: "We expect the inclusion to trigger $8 billion to $10 billion of inflows. However this is just a drop in the bucket given (the) A-share market's daily turnover of $70 billion this year and total market cap of almost $8 trillion. Hence we think the market impact would be limited."