High-tech bike sharing in spotlight at cyclists' summit in Holland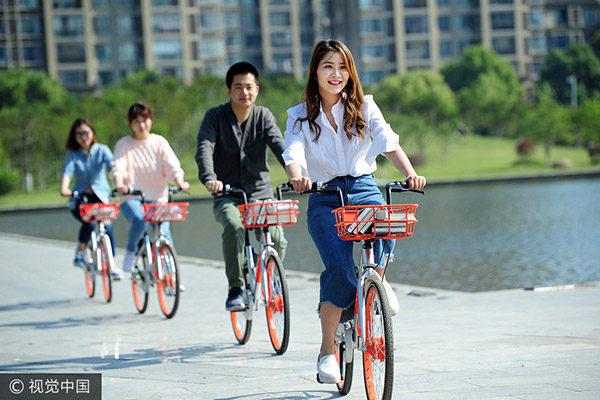 People ride Mobike's shared bikes in Hefei, Anhui province. [Photo/VCG]
NIJMEGEN - Bike sharing, with newly integrated high-tech technology such as smart-lock and built-in GPS and connection with IoT network, was in the spotlight at Velo-City 2017, the annual global cyclists summit.
It was held this year from June 13 to 15 in Arnhem Nijmegen region of the Netherlands.
The firm Mobike brought its latest bike to the summit. In two weeks time, the service will go live in Manchester and Salford in Britain with an initial 1,000 bikes. By downloading the Mobike app, finding a nearby Mobike and scanning its code, Manchunians and Salfordians will be able to pick up and ride bikes around the city.
"Mobike is not only dockless and stationless, which means riders can pick-up and park bikes anywhere legal as and when needed," said Hu Weiwei, the 34-year-old ex-journalist who launched Mobike in April 2014.
Mobike goes for high-end branding with bikes that cost as much as 3,000 yuan ($440) to build and have solid-core tires and satellite navigation. The company now operates more than 5 million smart bikes in China and Singapore, supporting over 20 million riders ever day.
The rapid rise of dozens of Chinese bike-sharing companies, which have raised hundreds of millions of dollars in venture capital and put millions of bicycles on to China's streets in just a year, was closely followed by bike sharing operators around the world.
"Bike sharing can be a key player in shared mobility and cycling mobility and many operators is good for competition," said Niccolo Panozzo, project coordinator at the European Cyclists Federation (ECF), a Brussels-based NGO that represents the end-user.
Rapid growth in private fleet-based bicycle systems, as well as innovation within traditional public bicycle share schemes and electric bicycle share, support the urgent need for an intra-industry forum and stakeholder platform.
In Europe more than 550 cities have bike sharing systems. Many big operators are eyeing foreign markets. US operators Bycicles/SoBi and Motivate for example also started looking at the European market.
"Cities are more open to multi-operator environments, which would foster competitiveness because everyone will be trying to give better service and get more users," Panozzo said.
"The market is not saturated because there are a lot of cities in Europe which don't have a bike share system. There is still room for other systems," he said.
In the future, he added all bikes would have built-in GPS like cars.