ECB gives boost to renminbi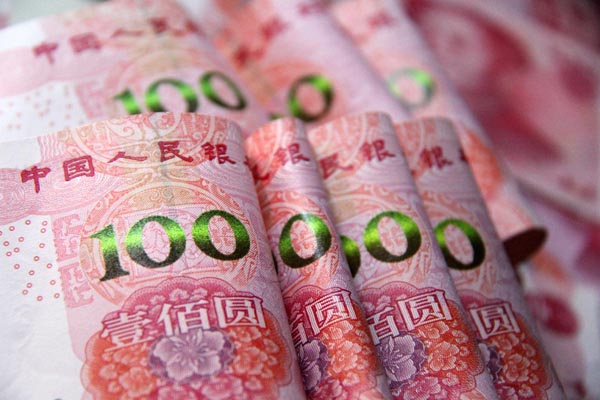 A photo of Chinese 100 yuan banknotes [Photo/VCG]
The push to internationalize the renminbi moved up a gear following the announcement by the European Central Bank that it will diversify some of its foreign exchange reserves into the Chinese currency, pointing to growing confidence in the renminbi as a global reserve currency.
The ECB invested 500 million euros ($558 million) of its foreign reserves in renminbi assets during the first half of 2017, reflecting the importance of China as one of the euro zone's biggest trading partners, the central bank announced.
The bank said on Tuesday that the investment in Chinese yuan was made by changing the current composition of the ECB's foreign reserves. The ECB sold a small portion of its US dollar holdings, which remain its largest portfolio, leaving the overall size of the ECB's foreign reserves unchanged.
The investment decision was taken by the ECB Governing Council on Jan 20 this year.
Economists said that although the new investment only accounted for 1 percent of the ECB's total 68 billion euros in foreign exchange reserves, the purchase of renminbi assets reflected the growing acceptance of China's status as a global economic power in Europe-along with a desire to build closer ties with one of the world's largest economies.
"The inclusion of renminbi assets by the ECB is significant to the nation's efforts to internationalize the renminbi," said Nathan Chow Hung-lai, a Hong Kong-based economist at DBS Group.
"It definitely has a positive impact on renminbi in the long-term, but the short-term impact on the onshore yuan exchange rate is not obvious," he added.
E Zhi-huan, chief economist of the Bank of China (Hong Kong), said that the willingness to purchase renminbi assets by one of the most powerful central banks in the world reflected the market confidence in the renminbi.
Meanwhile, the National Bank of Belgium also announced it completed foreign reserve investments in renminbi and South Korean won during the first half of 2017 as part of its diversification strategy, buying 200 million euros worth of yuan and 100 million euros of the South Korean currency respectively, according to the bank's statement.
The yuan held steady after the US Federal Reserve raised its benchmark interest rate, as the market expected, by 25 basis points on Wednesday.