US Fed raises interest rates, fourth increase since December 2015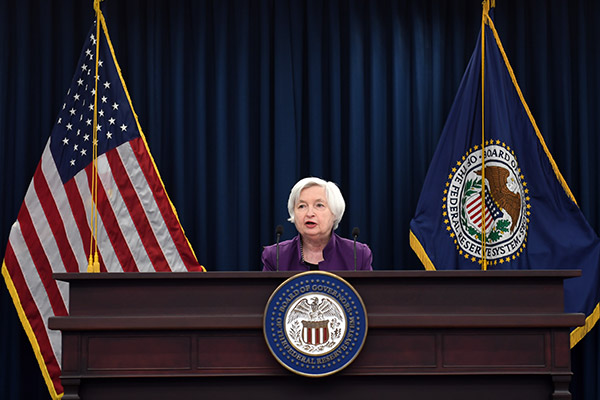 US Federal Reserve Chair Janet Yellen speaks during a news conference in Washington DC, June 14, 2017. [Photo/Xinhua]
WASHINGTON - US Federal Reserve on Wednesday raised the benchmark interest rates for the fourth time since December 2015, and unveiled a plan to start trimming its balance sheet.
"In view of realized and expected labor market conditions and inflation, the (Federal Open Market) Committee decided to raise the target range for the federal funds rate to 1 to 1.25 percent," said the Fed in a statement after concluding its two-day monetary policy meeting.
The central bank acknowledged the continuous progress in labor market while expressed their concerns over weak inflation.
Fed officials lowered their forecast for unemployment rate for 2017 down to 4.3 percent, compared to 4.5 percent projection made in March, while their forecast for inflation rate in 2017 was revised down to 1.6 percent from their forecast of 1.9 percent in March, according to the economic projections released by the Fed on Wednesday.
Despite the weak inflation, the central bank continues to see improvement in the economy. "Household spending has picked up in recent months, and business fixed investment has continued to expand," said the Fed in the statement.
Fed officials expected the economy to grow 2.2 percent this year, compared to their forecast of 2.1 percent in March.
Their forecast for rate hike pace barely changed compared to March's projections. According to their forecast, there will be one more rate hike this year, and three more next year.
In view of the stable economic conditions, the Fed plans to reduce its $4.5 trillion balance sheet later this year and unveiled a detailed plan to trim its bond holdings.
"The Committee currently expects to begin implementing a balance sheet normalization program this year, provided that the economy evolves broadly as anticipated," said the Fed in the statement.
"The plan is one that is consciously intended to avoid creating market strains, and to allow the market to adjust to a very gradual and predictable plan," said Fed chairwoman Janet Yellen in a press conference on Wednesday, in regard to the plan to reduce the central bank's balance sheet.
According to the plan, the Fed will set radually increasing caps on the amount of the Treasury and agency securities that would be allowed to run off each month. The caps will be increased every three months until they reach fully phased-in levels.
As for the timing of implementing the plan, Yellen said that if the economy evolves in line with Fed officials' expectations, the central bank could put it into effect "relatively soon."