Mattel sees potential in early education market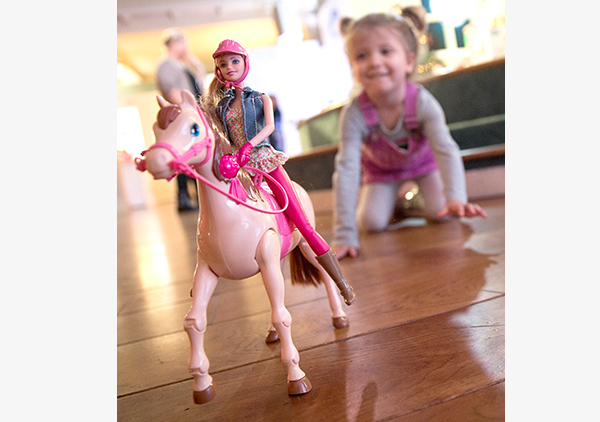 A child plays with a Barbie Saddle 'N Ride Horse and Doll, manufactured by Mattel Inc, at the Toy Retailers Association Dream Toys 2015 event in London. [Photo/Agencies]
Mattel sees potential in early education market
Mattel Inc, the world's largest toy maker, is tapping into China's early childhood education market by working together with local investment conglomerate Fosun Group.
The California-based toy giant announced on Wednesday that its joint venture with Fosun will aim at launching a network of play clubs which combine preschool educational services and retailing. The joint venture is subject to Chinese regulatory approval.
The first play club is expected to open in early 2018, targeting children aged up to 6. It will be located in the newly completed Bund Finance Center in central Shanghai, where Fosun moved its headquarters two months ago.
Covering 1,500 square meters, the club will include entertainment, classrooms, a day-care area, catering and a retail space. Club Med, which Fosun acquired in 2015, will offer its expertise in operating children's clubs, said Qian Jiannong, senior vice-president of Fosun Group.
The investment amount and the companies' respective stake in the joint venture were not disclosed.
According to Shenzhen-based market research firm CIConsulting, China's early childhood education market will grow by 20 percent annually to reach 348 billion yuan ($51 billion) in 2020.
Fosun has had its eyes on this market ever since China relaxed its family planning policy in October 2015. It took over British high-end nursery product brand Silver Cross in 2015. The company also invested in two online parenting platforms-BabyTree and Qbb6-late last year.
Following its cooperation deals with e-commerce giant Alibaba Group and BabyTree earlier this year, Mattel Chief Executive Officer Margo Georgiadis said the joint venture with Fosun is proof of Mattel's strategy to accelerate growth in emerging markets.
Mattel opened its first flagship store, the House of Barbie, in Shanghai in 2011. However, the store, which cost the company $30 million, only existed for two years. By opening its online stores on Alibaba's Tmall and Amazon in 2011, it has registered steady sales growth in China, especially for Mattel's toys for babies and infants, according to global market research firm Euromonitor International.
The Chinese toys and games market was estimated at 218 billion yuan in 2016 by Euromonitor. However, the market is saturated and highly fragmented, with no player holding more than a 5 percent market share in 2015. Local toy maker Guangdong Alpha Animation & Culture took the biggest share-4.4 percent-in 2015 while Mattel only took the fourth-biggest share of 2 percent. Mattel's international competitor Lego took a slightly bigger share of 2.8 percent.
Euromonitor Senior Associate Carol Lyu suggested that toys and games manufacturers should consider branching out into sectors such as entertainment to gain higher profit margins.
Related Story: Group toys with digital to triple China business
Mattel Inc expects to grow three to four times in the more than $31 billion toys and games market in China by 2020 through digitally connected toys, as it intensifies its efforts to take on Lego Group and Hasbro Inc in the country.
Mattel-which more than halved its dividend to fund the new efforts-said its emphasis on e-commerce and repackaging its core brands as educational toys and connecting them to the internet would boost its standing in the fragmented market.
The toymaker has a market share of around 2 percent in China, lagging behind construction toy maker Lego which has 2.8 percent control over the market. Hasbro is catching up with 1 percent, according to Euromonitor International.
Mattel has been revamping its toys, developing AI Barbie Holograms, smart sensors-enabled Hot Wheels cars and virtual reality powered View-Masters to make them relevant to millennial parents.
The new, digitally connected toys will be launched globally in late 2018, the company said on Wednesday.
"In China, there is a lot of recognition on linear learning and development. There is a real need for development of EQ, primary motor skills and social-emotional skills," Mattel Chief Executive Margo Georgiadis said.
Georgiadis, a former Google executive, took over the reins of the toy company in February and was hired for her tech expertise and e-commerce knowhow.
The company said it aims to enmesh more educational content with other brands such as Fisher-Price and Thomas & Friends, which are popular in China.
"As we think about the opportunity in China ... it is driven by the basic fact that there are 210 million kids in China, while there are 55 million in the US," Georgiadis said.
"Just the sheer size of the market ... it's an enormous market opportunity."
Reuters