Most firms unaffected by sovereign downgrade, says Moody's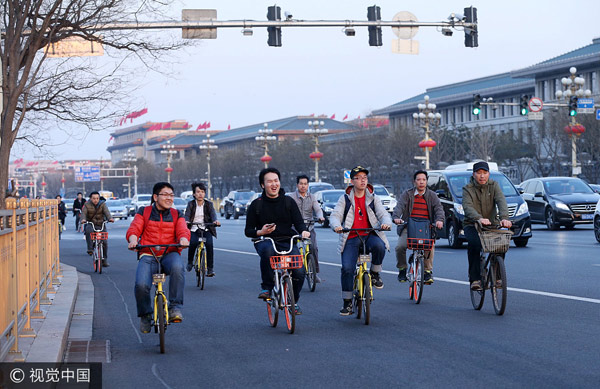 People ride shared bicycles on the Changan Avenue in Beijing, Mar 10, 2017. [Photo/VCG]
The majority of rated Chinese firms remain unaffected by sovereign downgrade, a managing director of rating agency Moody's said on Tuesday.
There's "no real impact" on most private entities and those whose outlook have already been assessed or shown progress, Michael Taylor, Moody's chief credit officer of Asia Pacific, said at a mid-year outlook conference in Beijing.
Eighty-four percent of rated Chinese entities are unaffected by the downgrade, according to a note released by the agency.
Last month, Moody's downgraded China's sovereign rating by a notch from Aa3 to A1, while raising its outlook from negative to stable.
The change came as Moody's expects the country's general debt to rise further, despite ongoing reforms are likely to transform the economy and financial system over time, Taylor said.
The country previously pledged a more proactive fiscal policy in 2017 to support economic growth, with a targeted fiscal deficit of 3 percent of GDP, or 2.38 trillion yuan for the year, a year-on-year increase of 200 billion yuan.
The rating agency projects China's government debt to rise toward 40 percent of GDP in 2018 and closer to 45 percent by 2020.
"We don't expect the sovereign rating to change in the near future," said Marie Diron, associate managing director of Moody's sovereign risk group, adding that implementations of structural reforms will draw most attention.
Ongoing urbanization is yet to unleash full potential for consumption, Diron noted.