Bearing up to the challenge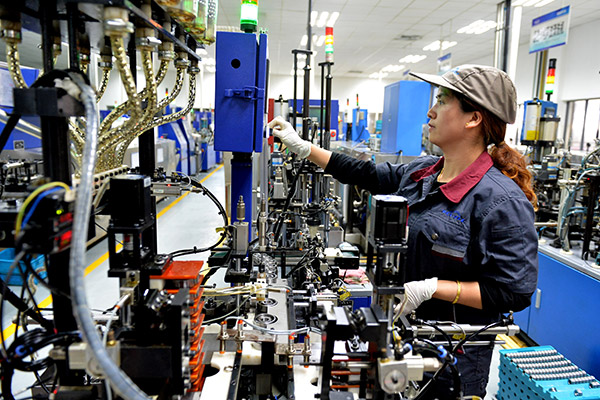 A woman works on a production line of Zhejiang XCC Group. [Photo/China Daily]
Zhejiang XCC Group plans to upgrade business to cope with rising demand for precision parts
A major Chinese bearing company is upgrading its business to cope with increased demand in a crucial sector for precision parts here.
Zhejiang XCC Group Co Ltd is transforming its operations from being a leading bearing ring supplier to a global conglomerate to manufacturing finished bearing products in the industry.
Bearing rings are used in various machines across a wide range of sectors and are crucial in the auto business.
Based in Xinchang, Zhejiang province, the group supplies bearing parts to international players such as Schaeffler AG in Germany, Svenska Kullager-Fabriken in Sweden, and NSK Ltd and JTEKT Corp in Japan.
"XCC Group is a successful global bearing parts supplier, but now we are developing our own finished products business to serve the high- and middle-end bearing market in China," said Zhang Feng, chairman of the company.
Last year, the group reported overall revenue of 1.1 billion yuan ($161.8 million), an increase of 14.2 percent compared to the same period in 2015.
But included in those numbers was revenue in finished bearing products, which increased to 276.3 million yuan.
This was 26.7 percent of XCC Group's total revenue last year, its annual financial statement showed, compared to 24.9 percent in 2015 and 18.7 percent in 2014.
"We expect the proportion of finished products rolled out by XCC Group will continue to increase in 2017," said Zhang.
He explained that the top eight global bearing companies account for about 70 percent of worldwide market share by revenue.
Up to 80 percent of bearing products in China's high- and middle-end market were imported, including high-speed train bearing components and high-precision metallurgical mill bearings.
Other sectors that relied on imports were the high-precision control machine tool business and robotics.
A lack of research and development here has forced Chinese manufactures to import crucial bearings from outside the country. But that is starting to change with Chinese companies such as XXC Group leading the way.
"We aim to make a key contribution to this and help cut down imports for industry and divide up this global cake," said Zhang.
The company is an industry leader when it comes to high-end manufacturing techniques, including turning out bearing rings, and continues to pursue an active R&D policy.
Next up are plans to develop high-precision numerical control machine tool bearings. XXC Group aims to manufacture 500,000 units annually. The engineering giant also expects to produce 15.8 million high-precision machine tool bearing rings.
Part of the core business revolves around the auto sector with the company working on a special tube for air bag gas generators-a first for a Chinese enterprise.
The generator is key element as it inflates the air bags instantly in the event of a crash to cushion the driver and passengers.
This expansion into high-tech products will gather pace as XXC Group looks at merger and acquisition opportunities in Germany, Japan and the United States.
"We would graft overseas technologies and distribution channels to China's huge market if we acquire the right companies," said Zhang.
"Chinese bearing companies should have the confidence in producing high- and middle-end products."
A report released by Industrial Securities revealed that there was huge potential for China's bearing market. By 2020, it is expected to exceed 87 billion yuan.
"There is a fierce competition among domestic players but many of them produce low-end bearing products," said Shi Mingxuan, an analyst of Industrial Securities in the report.
"Large domestic companies such as XCC Group have the technology and cost advantage to participate in global competition."
Major players
State-owned bearing companies
Harbin Bearing Group Corp
Wangfangdian Bearing Group Corp
LYC Bearing Corp
Private bearing companies
Zhejiang XCC Group Co Ltd
C&U Group
Tianma Bearing Group Co Ltd
Wanxiang Group