Alibaba CEO predicts huge sales growth for the current year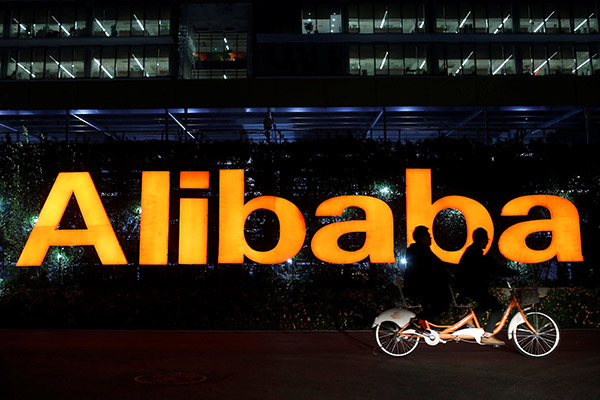 People ride past the Alibaba Group logo, at the company's headquarters, on the outskirts of Hangzhou, capital of Zhejiang province. [Photo/Agencies]
Alibaba Group Holding Ltd said on Thursday it expected its explosive sales increases to continue-issuing its first revenue guidance for the current financial year of 45 to 49 percent growth to more than $34 billion, beating analysts' estimates by a huge margin.
That annual sales projection, at an investors conference, compared with 56 percent actual revenue growth posted for its 2017 financial year to end March to 158.3 billion ($23.3 billion), and comes as the internet behemoth moves to consolidate its position in the fierce business-to-customer segment.
At the same investors day last year, the group predicted 48 percent revenue growth for fiscal 2017 and that was subsequently revised up to 53 percent growth.
Alibaba Chief Executive Officer Daniel Zhang, addressing the investors day on Thursday in Hangzhou, said that growing "stickiness" of users-coupled with data technologies that facilitate online shopping-would drive sales to a record high and boost gross merchandise volumes to $1 trillion by 2020.
Despite an already huge customer base, the current year sales projection easily exceeded market expectations. Citi Research modeled revenue growth at 34.7 percent year-on-year, according to the South China Morning Post.
In a later presentation, CFO Maggie Wu said the company would reinvest funds to expand its consumer base, improve customer's experience of its products, in a bid to gain the B2C market share.
Already the world's biggest e-commerce company, Alibaba's Tmall site is being challenged by JD.com Inc at home. It reported its first quarterly earnings-of 239 million yuan ($35.2 million) for the three months ended March-since listing in 2014.
Wu said the optimism behind the revenue forecast comes on the back of improving technologies which is providing more content that enhances the level of engagement for customers and their resulting loyalty to its various platforms.
CEO Daniel Zhang said the adoption of artificial intelligence big data and cloud computing, was set to revolutionize the online retail landscape with the advent of uncannily precise product searches, relevant and holistic product recommendations based on shopping habits, and virtual storefronts displaying tailored product information.
Alibaba is branching out overseas, having securing 80 million annual active users outside China via its indigenous foreign marketplace AliExpress and Lazada Group, the Southeast Asian e-commerce group it acquired last year.
Other new business lines are also gaining traction, according to Zhang, with cloud computing transforming from an infrastructure provider to an application-enhanced service.