Energy ties further boosted in Central Asia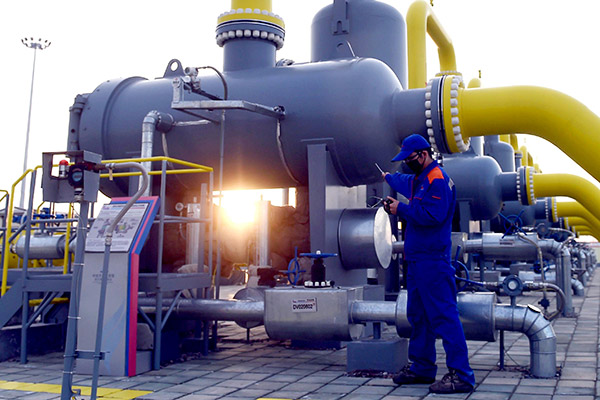 A technician inspects a terminal at the China-Kazakhstan gas pipeline in Horgos, the Xinjiang Uygur autonomous region. [Photo/Xinhua]
The ongoing visit of President Xi Jinping to Kazakhstan will ensure more cooperation opportunities for Chinese companies in Central Asia, especially companies in the energy sector, said Bian Dezhi, a senior official at China National Petroleum Corp.
The energy sector has been the main sector of cooperation between China and Kazakhstan for around 20 years, and such cooperation has expanded since President Xi proposed the Silk Road Economic Belt in Astana, the Kazakh capital, in 2013.
In June 1997, CNPC, the nation's largest oil and gas producer and supplier, bought a 60.34 percent stake in China National Petroleum Corp AktobeMunaiGas, known as CNPC AMG, and obtained production licenses for three oilfields and a contract for an oil exploration block in Kazakhstan.
The acquisition was the start of the company's investment in Central Asia, and the development of the Aktobe project is a prime example of China's oil and gas cooperation in Kazakhstan, said Bian, general manager of CNPC Kazakhstan Corp, a subsidiary established to oversee operations in the country.
He said the frequent visits by the presidents and close political relations provide a good environment for Sino-Kazakh energy cooperation, and will have a long-term effect on gas and oil cooperation.
CNPC now owns four more oil and gas projects in the country, along with two exploration projects and the Kazakhstan-China crude oil pipeline, the northwest oil pipeline and phase two of the Kazakhstan-China gas pipeline.
Construction of the 1,454-kilometer-long western section of the Kazakhstan-China gas pipeline was completed in April. According to the company, the pipeline can now carry more than 5 billion cubic meters a year from Kazakhstan to China.
Bian said: "China is busy building the Silk Road Economic Belt throughout Central Asia, and we see these oil and natural gas pipelines as an 'energy Silk Road'."
Wang Junren, general manager of CNPC AMG, echoed Bian, saying the Silk Road Economic Belt has brought a better energy cooperation environment.
Wang said with better relations, Chinese companies are able to enjoy better and easier development in overseas markets.
But more work still needs to be done, said Xu Anping, deputy general manager of CNPC Aktobe branch.
"Some of our projects in Kazakhstan are at the period of the end of the last contract, and we get an extension agreement," Xu said.
"We hope to get a good agreement that meets the needs of both our company and the local government after the meeting of the two presidents."