Chinese films seek elusive overseas success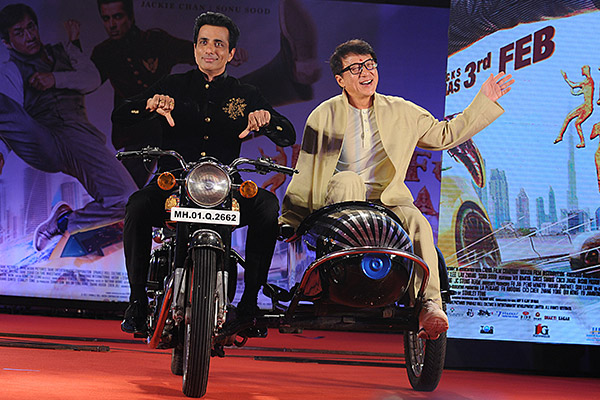 Hong Kong action movie star Jackie Chan (right) and Indian Bollywood actor Sonu Sood attend a promotional event for the film Kung Fu Yoga in Mumbai, India, in January. [Photo provided to China Daily]
The comedy Lost in Thailand became China's highest-grossing domestic film in 2012, with box office revenue of 1.26 billion yuan ($185 million), but when the movie hit the big screens in North America the next year, it flopped, making a mere $60,000.
Few Chinese films have seen the huge commercial success overseas that was achieved by Zhang Yimou's Hero in 2002, so what do Chinese movies need to crack the international market?
Quality is essential, but many more channels are required to help Chinese productions achieve global success, experts said at the seventh annual Beijing International Film Festival in late April.
According to Liu Mian, general-manager of Poly Film Investment's content production department, Chinese films earned about 3.9 billion yuan overseas last year. Though the number was significantly above the 2.7 billion yuan earned in 2015, it represented only about 8 percent of the revenue of the domestic market, which was 45.7 billion yuan in 2016.
"The potential is huge, but Chinese filmmakers need to exhibit more cultural confidence in exploring more genres when they go abroad," Liu said, adding that while kung fu films were once the most popular Chinese films overseas, no Chinese kung fu film has earned more than $1 million abroad since 2008.
"With China becoming a more influential global power, overseas audiences are learning more about China," he said. "They want to see a greater exploration of human nature in Chinese films, rather than just turning to them for novelty value."
Liu said shared values are crucial for future success, praising the 2015 Sino-French coproduction Wolf Totem, which explored harmony between humanity and nature, as well as traditional Mongolian culture.
Kulthep Narula, a member of Thailand's national film council, said it's important to have "Chinese culture consumed by overseas audiences" before focusing on how to sell movie tickets overseas.
"In South Korea, they export their pop culture by creating celebrities," he said. "In order to get Chinese films better accepted and understood, Chinese cinema also needs to push its celebrities to overseas audiences."
Although Chinese cinema is a booming industry, adjustments are needed based on successful examples.
Tu Biao, co-founder of film industry think tank Movie Ticket, said: "Money is important, but it's sometimes an issue when capital is poured into this industry. China's film industry is still not developed enough to support as many blockbusters as Hollywood, and investment can result in conflict."
Tu suggested building up a management system-centered on producers, who can manage projects in a more comprehensive way, rather than the current model, which is dominated by directors.
In March, China implemented its new Film Industry Law, which aims to promote a healthy environment for the development of Chinese cinema. However, Zhang Jizhi, a film-industry lawyer, said it will take time to put policies into practice.
"A relatively high threshold for domestic capital to go abroad is still a common problem faced by Chinese filmmakers when doing international projects," Zhang explained. "That's why the law asks the country's foreign currency administrators to support such cases."
He said it helps Chinese cinema to learn more about international regulations as it becomes exposed to more cross-border projects.
"We need effective polices and talented filmmakers with a spirit of craftsmanship. However, we also need good businessmen in the industry and good agencies," Zhang said.
"All possible measures should be taken to ensure the most professional filmmakers are doing what they are good at," he said. "Once filmmakers get distracted by marketing and other issues, which they don't know enough about, the quality of their films is affected."