Xinjiang rises as medical hot spot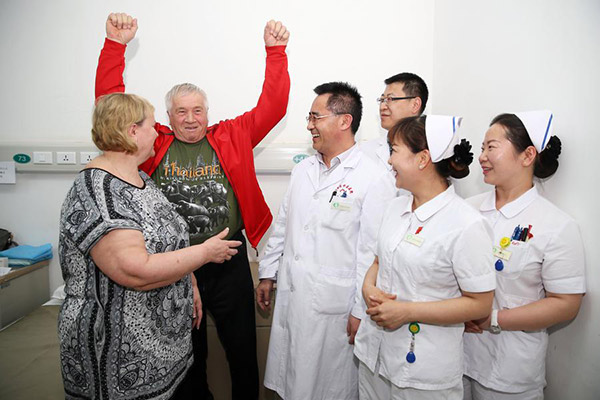 A man (second from left) from Kazakstan and his wife (left) talk with Chinese doctors and nurses after an operation. Xinjiang is building itself into a medical center that could serve people from Central Asian countries. [Photo/Xinhua]
Telemedicine, TCM, local Uygur treatments bring health consumers from neighboring countries
Good medical treatment and advanced telemedicine services are making Northwest China's Xinjiang Uygur autonomous region an attractive destination for patients from Central Asian countries, health officials said.
Xinjiang, which borders eight countries and is also an important spot on the ancient Silk Road routes, has been strengthening cooperation in the medical sector with neighboring countries for the past few years, said Peng Yong, deputy Party chief of the Health and Family Planning Commission of Xinjiang Uygur autonomous region.
He said five key hospitals in Xinjing now serve overseas patients, offering 500 hospital beds. In 2016, they treated more than 7,000 patients from other countries.
"Xinjiang is building itself into a medical center that could also cover Central Asian countries. Staff at these hospitals can speak languages such as Russia and Kazakh," he said.
"Moreover, Xinjiang has built telemedicine platforms that could connect with hospitals that are overseas or in other parts of China, so that they could treat patients remotely."
At present, Xinjiang's telemedicine platform has connected with 11 key Chinese hospitals, 17 hospitals in Kyrgyzstan, two hospitals in Georgia and five hospitals in Kazakhstan.
"We are working on including 15 hospitals in Tajikistan in our platforms," Peng said.
Wen Hao, director of the First Affiliated Hospital of Xinjiang Medical University, said that in the past five years, the hospital has treated more than 10,000 overseas patients from neighboring countries.
For overseas patients, the hospital would also provide one-stop medical service to help them have better experiences during the entire treatment period. They have built mechanisms for cooperation and knowledge or data exchanges with more than 50 hospitals in Kazakhstan, Tajikistan and Kyrgyzstan.
Apart from good mainstream medical treatment and services, Uygur local medicine and traditional Chinese medicine or TCM are also attracting overseas patients.
Yussup Matinur, director of the Hospital of Xinjiang Traditional Uygur Medicine, said that they have treated more than 1,000 overseas patients in 2016, mostly in the departments of dermatology, orthopedics and gynecology.
The June-August period represents the peak season for patients, when hotels surrounding the hospital get fully booked.
"About 98 percent of our doctors are of ethnic groups, and can understand languages such as Uygur, Kazakh and Uzbek, and communicate with patients from Central Asian countries easily," he said.
"Moreover, about 90 percent of the medicines we use are Uygur medicine, which have special ways of treatment and are well trusted by people from Central Asia. With the development of the Belt and Road Initiative, I think our cooperation with overseas hospitals will be strengthened."
In Alma-Ata of Kazakhstan, TCM treatments like acupuncture and massages are very popular among locals.
Li Fengsen, deputy director of the Hospital of Traditional Chinese Medicine of the Xinjiang Uygur Autonomous Region, said that to help locals get better treatment, the hospital opened a subsidiary specializing in rehabilitation projects such as acupuncture and massage. The hospital space spans about 3,000 square meters.
Wen said with the development of the Belt and Road Initiative, more people from Central Asia are embarking on medical tours to Xinjiang. So, in future, the region will develop more healthcare services for such visitors, especially those offering acupuncture and massage.