CIC to invest more in innovative industries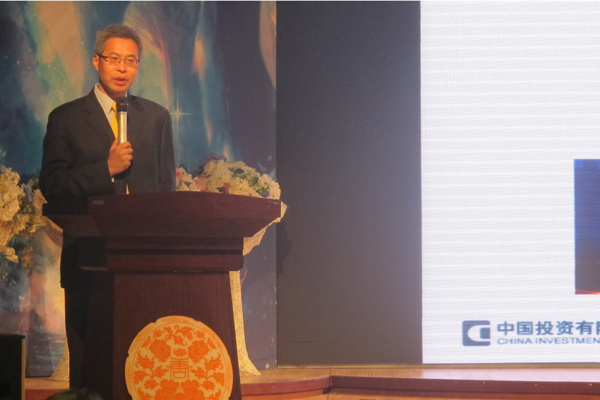 Qi Bin, executive vice president of China Investment Corporation, speaks on China's transnational investment at Dialogue between Zhongguancun and Silicon Valley Summit in Beijing, May 26, 2017. [Photo by Yang Yang/chinadaily.com.cn]
China Investment Corporation (CIC) will step up its support for innovative industries, a senior executive said in Beijing.
CIC executive vice president Qi Bin said on the Dialogue between Zhongguancun and Silicon Valley Summit on Friday that the corporation will focus on advanced technology, new business models and services.
Such a move will be in line with the essence of the Belt and Road Initiative proposed by Chinese President Xi Jinping, Qi added.
"The core of the initiative is economic integration. China's prosperity must benefit the world to achieve sustainable development," Qi said.
Liu Li, from the China Equipment Management Association, echoed Qi's remarks, saying that the initiative should drive innovation and cooperation in the digital economy, artificial intelligence, nanotechnology, quantum computers, and big data, cloud computing and smart cities.
He said China has 1.3 billion consumers, who are not only important to the country and the United States, but also to the world economy. He added that the US market is almost fully penetrated, while India's 1.3 billion customers are not strong in purchasing power.
Although a gap still remains compared with developed countries, China's industries have developed into a relatively good condition, Qi added.
Consumption demand is robust in China, as its GDP per capita and savings per capita has skyrocketed 44 and 3000 times respectively since 1979, according to a CIC report.
The fast-growing demand has also called for supply-side reform.
"The reform relies on self-innovation, research and overseas investment," Qi said.
While technology supports innovation-driven transformation and upgrading, finance should serve the real economy, Qi said. "When combining the two, miracles can happen and we could see it from the development of Silicon Valley and China's Zhongguancun."
"Thanks to the marriage of capital and technology and China's 1.3 billion consumers, it took Alibaba, Tencent and Huawei only 15 years to take up the market. China has found the right way," Qi said.
Guizhou and Yunnan provinces can learn from Zhongguancun's model as they seek to transform into data centers, Qi said.