China's manufacturing activity expands for 10th month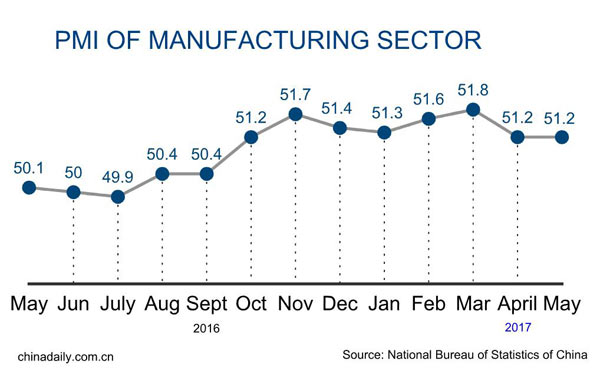 BEIJING — China's manufacturing sector expanded for the 10th straight month in May, an official survey showed on Wednesday.
The manufacturing purchasing managers' index (PMI) came in at 51.2 in May, flat with April, according to data from the National Bureau of Statistics (NBS) and the China Federation of Logistics and Purchasing (CFLP).
A reading above 50 indicates expansion, while a reading below reflects contraction.
The latest reading reaffirmed a stabilizing Chinese economy, said Zhang Liqun, a researcher with the Development Research Center under the State Council.
The sub-index for production stood at 53.4 in May, down from 53.8 in April, while the sub-index for new orders came in at 52.3 in May, unchanged from that in April.
Chen Zhongtao, an analyst at the China Logistics Information Center, said positive factors had grown for the Chinese economy, including balanced supply and demand, better performance of companies and a good job market.
The manufacturing PMI for medium-sized enterprises stood at 51.3 in May, up from 50.2 in April, while PMI for small enterprises came in at 51 in May, the highest in five years.
Equipment manufacturing, high-tech manufacturing and consumer goods manufacturing continued robust growth, with the sub-indices all registering above 52, indicating the increasingly important roles they play in the manufacturing sector.
China's non-manufacturing sector expanded at a faster pace in May.
The non-manufacturing purchasing managers' index came in at 54.5 in May, up from 54 in April, according to the the National Bureau of Statistics (NBS).