SF speeds up global expansion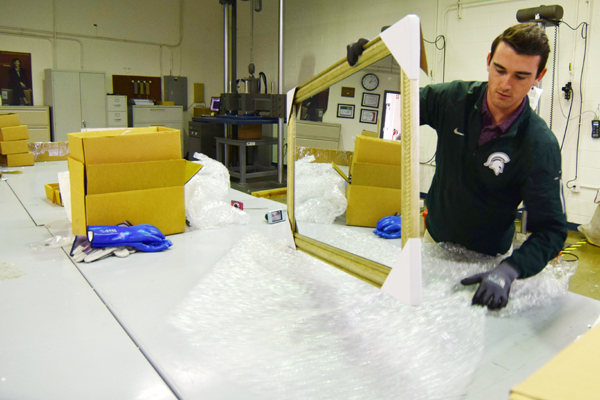 Package engineer Jonathon McWherter examines a mirror to see what damage it has suffered during rigorous package testing for a customer at a UPS testing lab in Addison, Illinois. [Photo/Agencies]
Courier major plans venture with UPS to forge link between the two logistics networks
SF Holding Ltd said on Friday it is speeding up its global expansion. It has firmed up plans to set up a joint venture with international delivery behemoth UPS Parcel Delivery Service Ltd.
The two parties said they are to establish Hong Kong-based Global Connect Holding Ltd, with each owning 50 percent of the equity. They said the total investment would be up to $10 million, with the deal subject to regulatory approval.
Starting from the China-United States route and then moving on to the global markets, the joint venture will combine SF's Chinese network of about 13,000 service points and UPS' global coverage of more than 220 countries and regions, the announcement said.
SF Vice-President Alan Wong said user demand for cross-border logistics services has become bigger and more varied as China's e-commerce market and mobile internet sector grew rapidly.
"To adapt to these new changes, it is imperative for logistics companies to collaboratively innovate new services," he said.
UPS Asia-Pacific President Ross McCullough said the two companies would launch new logistics products and services to simplify and accelerate B2B and B2C cross-border trade.
SF is one of the Chinese courier companies that have been vigorously exploring international markets. Shanghai-based YTO Express Group acquired a Hong Kong-listed logistics company this month, while major couriers STO Express Co and ZTO Express (Cayman) Inc also acquired US-based logistics service providers earlier.
Zhao Xiaomin, a logistics market consultant in Shanghai, said the SF-and-UPS combination would bring a new force to the industry and spur others to forge their own alliances, cross-shareholdings and acquisitions.
He predicted that SF's international business, which increased to record levels last year, would be the fastest-growing part of the business in the next three to five years.
However, Wang Guowen, director of the Center for Logistics and Supply Chain Management at the Shenzhen-based China Development Institute, said it would be a challenge to expand in such a mature market globally, although Chinese delivery companies were making various attempts.
Wang said he expected the upcoming joint venture would mainly focus on "asset-light" cooperation, such as hub-to-hub connections and more choices of delivery time for clients, given that the investment size was not large.