Air China awaits B737 MAX delivery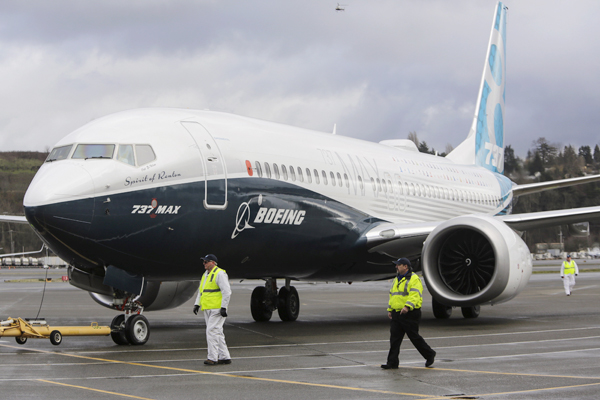 Ground crew members escort a Boeing 737 MAX as it returns from a flight test at Boeing Field in Seattle, Washington, Jan 29, 2016. [Photo/Agencies]
Boeing Co said Air China will become the first Chinese airline to take the delivery later this year of its single-aisle B737 MAX plane, a new fuel-efficient and updated version of the B737.
The US manufacturer plans to deliver some of its B737 MAX aircraft directly to Chinese customers from its completion and delivery center in Zhoushan, Zhejiang province, where construction got underway in early May.
With a maximum annual delivery capacity of 100 planes at its center in Zhoushan, Boeing plans to deliver the B737 MAX aircraft from the center, as it aims to meet the strong demand for single-aisle aircraft in China.
The Zhoushan center, Boeing's first overseas completion and delivery center, will consist of a completion center under a joint venture between Boeing and Commercial Aircraft Corporation of China Ltd and a delivery center owned by Boeing, capable of tasks including cabin installation, painting, flight testing and aircraft maintenance.
John Bruns, vice-president of Boeing and president of Boeing China, said the nation has become a strong engine driving the global aviation industry, and Boeing is planning to further expand its partnerships with Chinese aviation industry players.
"Boeing spent 40 years to deliver its first 1,000 aircraft to China. We only need seven years to deliver our second 1,000 aircraft to China, and about three years to deliver the third 1,000 aircraft," he said.
In the past five years, Boeing has consecutively delivered more than 140 aircraft to China. This year, the number is expected to reach 200, according to the company.
Meanwhile, the Airbus A320 final assembly line in Tianjin will start assembling the A320neo in July and delivering in September. Airbus Group SE's first overseas completion and delivery center for the A330 is also expected to deliver its first aircraft in September and produce two aircraft per month by 2019.
Lin Zhijie, an aviation industry analyst and columnist at Carnoc.com, one of China's largest civil aviation website portals, said, "With one-fifth of narrow-body aircraft in the world delivered to China, it is a huge market that Boeing hopes to seize."
He said the Airbus assembly line in Tianjin became operational in 2008, and it has helped to lift its market share in China to around 50 percent.
"Boeing is making more efforts in China by establishing its first overseas completion and delivery center in Zhoushan, in order to seize the big market potential in China for narrow-body aircraft," Lin added.