Adidas sprints away with new stores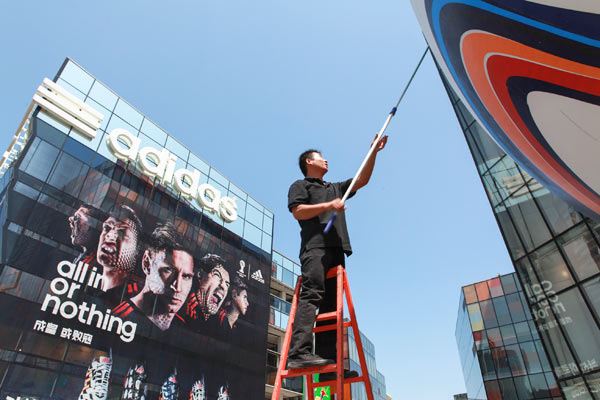 An adidas AG outdoor advertisement in Beijing, one of its major markets in China. [Photo by Wang Goudan/China Daily]
Global leading sportswear producer adidas AG is expected to open 2,000 new stores by 2020 in China, the company said.
CEO Kasper Rorsted said on a visit to China that its business in the China market grew nearly 30 percent last year, making it its second-largest market in the world after Western Europe.
Rorsted said that last year his company-which owns other brands including Reebok, TaylorMade and Reebok-CCM Hockey-achieved sales of 3 billion euros ($3.26 billion) in China thanks to updated products, new stores and the vibrant development of e-commerce.
Adidas expects to have a total of 12,000 stores in China by 2020, Rorsted added. The sportswear producer currently has more than 10,000 stores in China. In 2016, adidas opened 1,000 stores in the country.
Around 50 percent of the group's revenue comes from 23 major cities in China, according to Colin Currie, managing director of Adidas in China. With a presence in more than 1,000 cities, the sports goods producer plans to penetrate to 2,000 cities in China when ready, he said.
"We believe smaller cities will give us 50 percent of our growth in the coming years."
The Herzogenaurach-based company expanded revenue by 18 percent to 19.3 billion euros in 2016, its highest growth rate in almost 20 years, and net income soared 41 percent to 1.02 billion euros.
The group said the growth of the adidas brand was driven by its Sport Performance and Sport Style categories in major markets.
Rorsted said e-commerce would be a huge driver for its business going forward in China.
"China has one of the most sophisticated e-commerce and digital landscapes in the world, which we plan to make extensive use of," he said.
Adidas sold products worth 43 million euros in 24 hours on Nov 11, China's Singles Day shopping festival. Rorsted said a priority of the company was to figure out how to connect its bricks-and-mortar stores with its digital channels, to better interact with consumers.
Adidas's Reebok brand-which produces fitness and lifestyle footwear, apparel and equipment-plans to open 500 new stores in China by 2020.
Reebok's retail distribution network has form a partnership with its new retail partner-Belle International Holdings Ltd. Reebok plans to open 50 new stores in China in the current year.