Wal-Mart aims big in Guangdong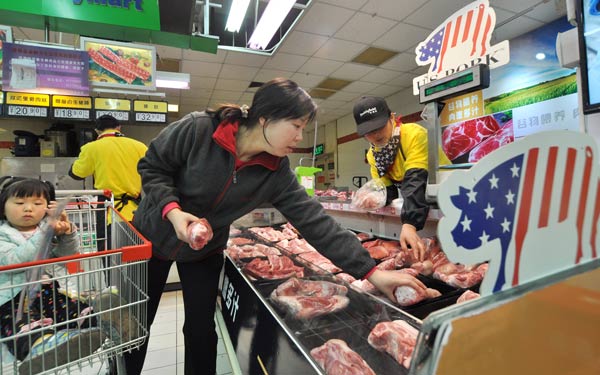 A customer buys fresh pork imported from the United States at a supermarket in Zhengzhou, Henan province. [Photo by Zhang Tao/For China Daily]
Wal-Mart Stores Inc will continue to increase its investment in Guangdong province, as it plans to add more than 40 new stores and one fresh food distribution center in the province in the next five years.
The US retail giant signed an agreement for strategic cooperation on its business expansion plan with Guangdong provincial government on Thursday.
"As a major dynamic economic base in southern China, Guangdong is an important market for us. We will continue to grow in China and accelerate our development here," said Scott Price, executive vice-president of Wal-Mart Global and chief administrative officer of Wal-Mart International.
Wal-Mart will also step up its cooperation with the local government on local sourcing, retail innovation and development.
"We will continue to increase sourcing of Guangdong products and help more of them enter our global supply chain system," said Price.
Wal-Mart entered the Chinese mainland in 1996 and opened its first store in Shenzhen. It now has to more than 400 stores across the country, including 92 in Guangdong.
The company will also upgrade its logistics system and build a cold chain distribution center in Guangdong.
Wal-Mart's expansion plan in the province was one of the 14 contracts signed on Thursday at the 2017 China (Guangdong)-US Investment Cooperation Conference in Guangzhou, the provincial capital.
The contracts involved a total investment of $2.289 billion, covering a wide range of areas such as finance, information technology, transportation, automobiles, intelligent manufacturing and environmental science.
China has become the second-largest destination for investment from the US. Chinese companies made direct investment of more than $15 billion in the US in 2015, surpassing US investment in China for the first time.
"Investment from China in the United States is just starting to gain momentum, and the prospects for US investment in China are still huge," said Yu Jianping, vice-minister of commerce.
The conference was held to act on the important consensus reached on promoting bilateral trade and investment by President Xi Jinping and his US counterpart Donald Trump during their meeting earlier this month.
Guangdong, a major manufacturing base and foreign trade hub, accounted for more than one-fifth of the trade volume between China and the US in 2016.
It attracted actual investment of $8.51 billion from the US by the end of last year, and Guangdong businesses have invested $4.17 billion in the US.
Guangdong offers "very broad market prospects" for US companies, said Guangdong Governor Ma Xingrui.
"The volume of Guangdong's imports of goods will surpass $360 billion in 2020. The province will have mass demand for high-tech products, modern services and high-quality consumer goods and foods," said Ma.
At the same time, to boost exports of made-in-Guangdong products to the US, the provincial government will "give great support" to local companies to build overseas warehouses, exhibition centers and branches, Ma said.
Contact the writers at xujingxi@chinadaily.com.cn and qiuquanlin@chinadaily.com.cn