Captain Fu ensures plain sailing for Piraeus Port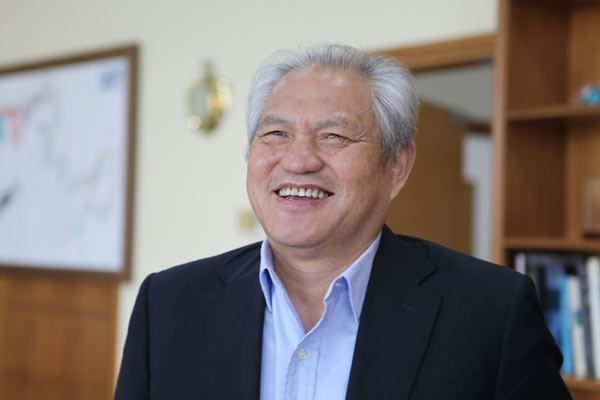 Fu Chengqiu. [Photo provided to China Daily]
About 30 years ago, Fu Chengqiu was a veteran captain with Cosco, the Chinese shipping giant. Later, he was chosen to establish the multinational's operations in Italy.
Since 2010, Fu has managed two container terminals in Piraeus Port, Greece, where his company holds a 35-year management contract.
Piraeus has been a huge success, and has shot up the rankings to become the world's 38th-busiest container port, from 93rd in 2010.
Moreover, it provides jobs for about 1,200 people at a time when many Greeks are struggling amid the nation's debt crisis.
The 60-something Fu has now taken the helm of the 35-square-kilometer Piraeus Port Authority, in which Cosco owns 51 percent of the lead project following a payment of 280.5 million euros ($298 million) in August.
In five years, Cosco will own a 67 percent stake in the port authority, having made a total payment of 368.5 million euros.
"The responsibility is obviously mountain-heavy," Fu said.
Sitting in the sofa area of his classroom-sized office within the cruise-ship-shaped PPA building overlooking the arrivals and departures of container ships and ferries, Fu said his team has spent about six months getting to know "every detail of its new family", including finances, customers and staff.
His headache now is how to improve efficiency at the "aging state-owned Greek enterprise".
The average age of the employees is about 52, and Fu believes the PPA only needs about 700 workers to maintain operations. That poses the problem of how to implement redundancy programs.
"The bottom line is that we will not fire a single member of staff in the name of improved efficiency," he said, recalling how China implemented the reform of State-owned enterprises in the 1980s and 90s.
"China offered many opportunities for job seekers then, but the situation in Greece and Europe is different."
The average unemployment rate in many European countries is still in double digits, and one-in-two young Greeks is jobless.
Fu said the PPA's businesses used to include handling containers, cargo, cruise shipping, car terminals, ship repairs and the operation of the port's economic zone.
He is now trying to simplify the situation and has already reduced the number of branches to 23 from 94: "I finished the task weeks ago. We must improve management efficiency."
Initial figures have shown that Fu's team is capable. A financial report said revenues amounted to 103.5 million euros last year, compared with 99.9 million in 2015. Meanwhile, pretax profit reached 11 million euros, a rise of 13 percent from 2015.
In addition, staff costs fell by 2.2 million euros, or 4.3 percent, to 49.9 million euros, and administrative costs were reduced by 5.5 million euros, about 20 percent.
"I am very happy to see our revenues are rising and costs are falling right now," Fu said.
Cosco is about to invest 190 million euros to expand the port's business, with an additional 130 million euros coming from the European Union. The money will mainly be used to develop a deep-sea cruise terminal.
Starting in August, the company will also expand investment and businesses involved in shipbuilding and repair, international cruise ships and car terminals. It will also improve the infrastructure of the Pier 1 container terminal.
"The projects will start in August," Fu said.
He is confident that a closer economic relationship between China and Europe will ensure the port has a bright future.
A study has shown that by 2025, Cosco's investment in the port will account for 0.8 percent of Greek GDP and create 31,000 new jobs.
Fu was reluctant to boast: "I don't want to make such estimates. What I trust is taking action and letting the future speak for itself."
After being unloaded, the containers are transported by rail, road or smaller cargo ships to other parts of Europe.
In addition to job opportunities provided by the port's expansion, Fu has pledged that the container terminals will handle 5 million TEUs (20-foot equivalent container units) next year.
"By then, we will be one of the world's top 30 container ports," he said.
In the long run, the company hopes to boost its container-handling capacity to 10 million TEUs and create more jobs for local people.