Alisports, Olympic Council of Asia form e-sports partnership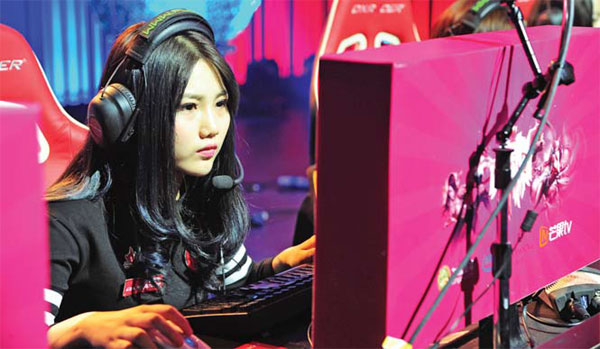 A young female player competes in an e-sports event in Taicang, Jiangsu province.[Photo by Ji Haixin/China Daily]
Alisports, the sports wing of Alibaba Group Holding Ltd, and the Olympic Council of Asia announced a strategic partnership on Monday in Hangzhou, to bring the fast-developing e-sports or electronic sports to the 2022 Hangzhou Asian Games.
The partners said e-sports will be added to the 2017 Ashgabat Asian Indoor and Martial Arts Games, the 2018 Jakarta Asian Games and the 2022 Hangzhou Asian Games. At the same time, Alisports will actively participate in working with the OCA to continue market development for every sports event at the games.
E-sports is a dynamic and fast-growing sector in China and internationally.
Last year, Alibaba invested over 100 million yuan ($14.5 million) to launch the World Electronic Sports Games. With a prize pool of over $5.5 million. The WESG is expected to be one of the highest-paying e-sports tournaments in the world.
Global research firm Newzoo said the emerging e-sports revenues totaled $463 million in 2016 and sales are expected to reach $1.1 billion worldwide in 2019.
Under the partnership with the OCA events, Alisports will implement a digital marketing strategy, through combining real-time sporting events with an internet digital platform, to help expand the market for the OCA and increase advertising values for major sponsors.
Sheikh Ahmad Fahad Al-Sabah, president of OCA, said: "We look forward to further collaboration with Alisports on digital sports concepts along with sporting events."
The OCA said it had already added e-sports to the Asian Indoor and Martial Arts Games which opened earlier this month in Turkmenistan, which will focus on football and other sports-related games.
Formed in 1982, the Kuwait-headquartered OCA manages and organizes a series of major comprehensive sporting events, including the largest and most influential Asia Games, the Asian Winter Games, the Asian Indoor and Martial Arts Games, the Asian Beach Games and the Asian Youth Games.
"Alisports places an emphasis on the operation of sports events and the related business of sports media, but not in purchasing the broadcast rights of events, which is different from its rival LeSports," said Sun Zheng, an analyst at Beijing-based internet consultancy Analysis.
Sun said it was much easier for Alibaba to tap into the emerging e-sports sector and build up its e-sports tournaments compared with traditional sports, which had been developed over many years.
"Alibaba expects to strengthen its influence on e-sports through cooperation with OCA," he added.
E-sports are set for much bigger growth in China.
Ouyang Shijia contributed to this story.