'Resilient' growth tops Q1 forecasts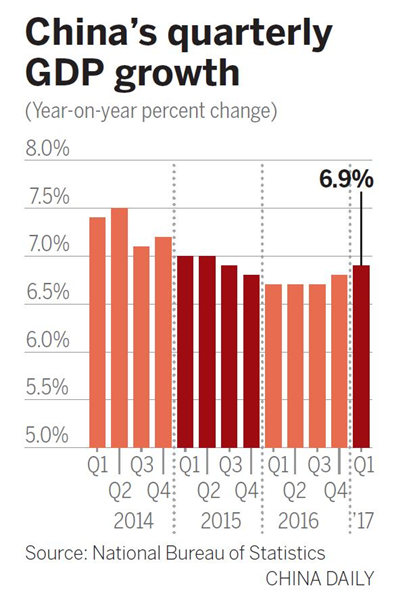 GDP hits 6.9%, best in over a year, in positive sign for China and world
China's economy got off to a strong start in the first quarter, with GDP expanding at a higher-than-expected 6.9 percent year-on-year. The result, analysts said, has laid a solid foundation for the country to achieve its growth target of at least 6.5 percent this year.
GDP growth in the first three months, marking the quickest pace since the last quarter of 2015, was 0.1 percentage point higher than the 6.8 percent in the fourth quarter of last year, the National Bureau of Statistics said on Monday. Full-year GDP growth for 2016 was 6.7 percent.
Industrial production growth jumped to a higher-than-expected 7.6 percent year-on-year for the quarter, from 6.3 percent in the first two months, the highest level in 27 months. "The growth beat general expectations; it seems no one had anticipated such strong growth," said Zhu Baoliang, an economist from the State Information Center.
Fixed-asset investment growth, likewise, rose to 9.2 percent for the quarter from 8.9 percent. The growth was largely underpinned by property growth, which was 9.1 percent for the quarter, compared with 8.9 percent in the first two months, and rising manufacturing investment.
"The trend of higher real estate investment will continue in the second quarter to bolster China's growth," said Liu Dongliang, an analyst at China Merchants Securities. Experts said government tigthening measures in the sector will show up by the third quarter.
Private fixed-asset investment rose by 7.7 percent year-on-year in the quarter, compared with 6.7 percent in the first two months. "This is the most eye-catching of the macroeconomic data," said Xu Hongcai, an economist at the China Center for International Economic Exchanges. "It shows that China's policies encouraging private investment, intensifying reform and protecting private property rights have worked."
Retail sales growth beat expectations, rising to 10 percent year-on-year in the first quarter, down by 0.4 percentage points compared with 2016 as a whole. Retail sales growth in March, however, rose to 10.9 percent, up from 9.5 percent in the first two months.
"Generally speaking, the national economy has continued with stable and sound momentum in the first quarter as growth rebounded moderately and economic adjustment was steadily promoted," NBS spokesman Mao Shengyong said on Monday.
"China's economy has continued its trend of stable and improving growth," said Xu, citing improvements in a spate of indicators, such as employment, corporate profits, power consumption and logistics.
"There's no doubt that China will achieve the (GDP) target," said Xu of the figure of at least 6.5 percent this year. "Given the stable growth, China can put greater emphasis on supply-side structural reform and prevention of financial risks."
Data released on Monday pointed to "resilient growth momentum", said Nomura Securities in a research note. "We are raising our 2017 GDP growth forecast by 0.2 percentage points to 6.7 percent."
The results also mean support for the world economy. "The Chinese economy continues to grow fast by international standards," said the Organization for Economic Co-operation and Development in its 2017 Economic Survey of China. "While growth is slowing gradually, GDP per capita remains on course to almost double between 2010 and 2020. As a result, the Chinese economy will remain the major driver of global growth."