Innovation imperative to supply-side reform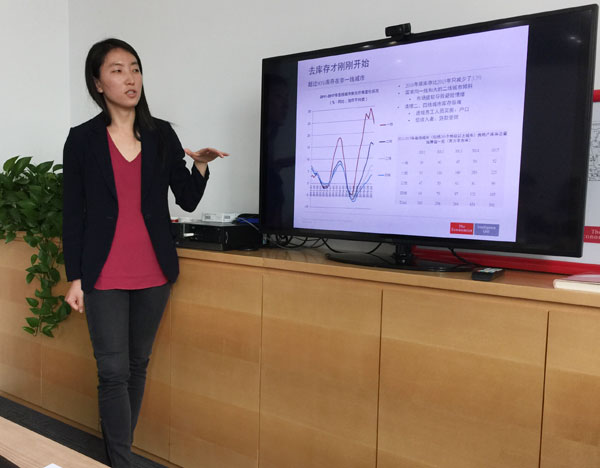 Wang Dan,an analyst at the Economist Intelligence Unit,explains a report the think tank released in Beijing,China,on April 13,2017.[Photo/chinadaily.com.cn]
Boosting innovation capabilities among domestic companies is at the forefront of China's supply-side structural reform, experts said on Thursday.
Innovative Chinese companies in the financial internet industry have played an essential role and will maintain their importance in China's supply-side structural reform process, according to Wang Dan,an analyst at the Economist Intelligence Unit.
"China is a world leader in online payment and personal credit system establishment and even the US and Europe should learn from Chinese experiences," Wang added.
Yuan Xin, a research analyst from the same think tank, pointed out that the emphasis on supply-side structural reform stems from a need to solve a pain in China's economy - the mismatch between supply and demand.
China's economy has maintained rapid growth over previous decades, but it still does not produce the full range of goods and services that increasingly wealthy domestic consumers demand, according to a report released by the think tank.
"China's R&D expenditure as a proportion of revenue from principal business by sector has increased continuously in the past decade. The Made in China 2025 plan will further stimulate innovation of Chinese companies," Yuan said.
In 2015 the central government launched the Made in China 2025 plan in an effort to promote high-end manufacturing in China. The plan aims to leverage technologies such as internet of things, cloud computing and big data to upgrade the country's existing manufacturing industries.