China arrests 430 in illegal fundraising crackdown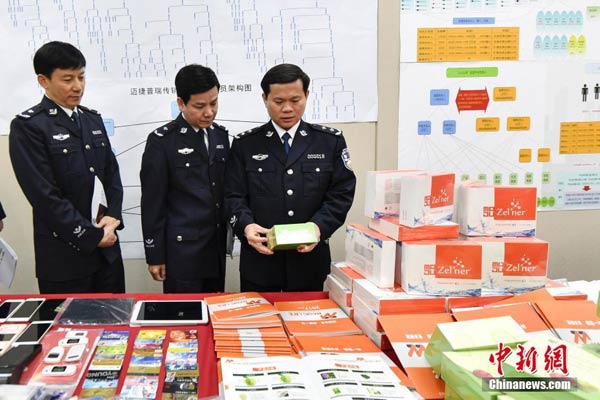 Police officers examine the articles involved in the internet-based pyramid-style schemes in Guangzhou, South China's Guangdong province on April 13, 2017. [Photo/Chinanews.com]
Chinese police in several provinces arrested more than 430 suspects in connection with internet-based pyramid-style schemes.
Police in Guangdong, Beijing, Zhejiang and Henan busted multiple gangs, said the Public Security Department of Guangdong Province on Thursday.
The illegal fundraising schemes involved 4 billion yuan ($580 million), with victims from across the country, said the department.
Guangdong police began to investigate the cases in March. Some internet companies in the province organized themselves under the disguise of charities or high-tech biological products with promises of high returns.
In the first quarter, Guangdong police investigated more than 100 illegal fundraising cases and arrested more than 170 suspects, up 18 percent and 26 percent respectively.