StanChart to raise investments in digital banking, wealth biz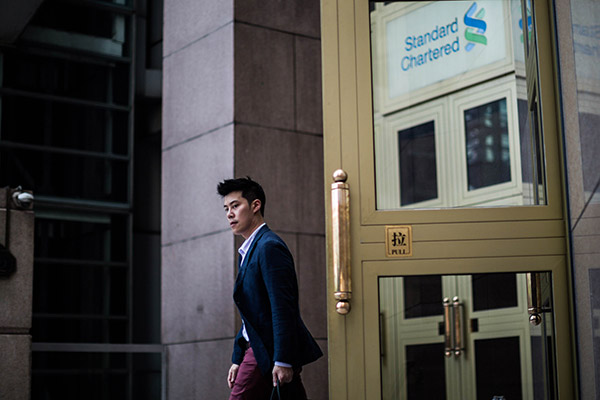 A man leaves the Standard Chartered bank building in the Central district of Hong Kong. [Photo/Agencies]
Chairman says group betting on further opening up of Chinese financial system
Standard Chartered Plc said on Monday it will increase investments in China this year with a focus on digital banking, wealth management and its renminbi business while seeking to partner up with the Chinese side under the Belt and Road Initiative.
Jose Vinals, chairman of the London-based international banking and financial services company, said that China is a critical market for the bank as the country and the northern Asian region are contributing about 40 percent to the group's total income.
Vinals expressed optimism about long-term economic prospects in China, which remains a strategically important and a top-priority market for the company as it pushes through with its transformation through the cleanup of bad assets, cost reductions and strengthened risk discipline.
The group posted a pre-tax profit of $409 million last year, turning around from a loss of $1.5 billion a year earlier.
Vinals said his bank would continue to bet on the further opening up of the Chinese financial system, the greater role of the renminbi in the global markets, as well as domestic structural reforms with emphasis on quality and efficiency.
"I am very positive on the Chinese economy and aiming at around 6.5 percent growth target for 2017 is very wise," Vinals told China Daily in an interview on the sidelines of the China Development Forum.
Vinals said that the financial risks in China are manageable and need to be continuously managed, adding that it is important for China to reduce the pace of leveraging and to ensure its corporate sector, especially State-owned enterprises, is reformed.
"The important thing is to support growth of the right policy mix, the right structural reforms and also try to diminish excessive growth of credit, particularly credit growth from the shadow banking system, which is the big source of risk," he said.
In the meantime, the bank was actively seeking opportunities to partner with the Chinese government and companies along the Belt and Road Initiative, Vinals added.
Last year, Standard Chartered participated in 40 deals related to the initiative and supported the Chinese government to help develop water power plants in Pakistan and Bangladesh, according to Vinals.
"This is the most important single initiative that exists to support globalization, and it is fostering cross-border integration in terms of infrastructure, cross-border investment and international trade," he said.
Vinals said that Standard Chartered's presence in the countries and regions involved in the Belt and Road Initiative-as well as its understanding of the local markets and the legal environment-could help mitigate risks in the projects under the initiative.