Top regulator urges banks to act on risks
China's top banking regulator on Wednesday urged banks to draft new rules on their wealth and asset management businesses and to more tightly control risky leveraged investments.
Guo Shuqing, chairman of the China Banking Regulatory Commission, said the regulator will step up efforts to ensure funds raised from the wealth management products support real economic activity and prevent risks from the mismatching of banks' assets and liabilities, as well as risky leveraged investments.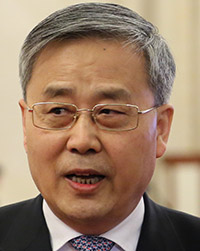 Guo Shuqing, chairman of the China Banking Regulatory Commission. [Photo provided to China Daily]
Guo made the comments in a speech at a meeting of the China Banking Association. The association released a report on service improvements in the Chinese banking industry, which coincided with World Consumer Rights Day.
Guo said that banks should act in a timely manner in accordance to the guideline recently issued by the People's Bank of China, to regulate their surging wealth and asset management business.
The emphasis on tighter regulation of the asset management business underscored the shift in focus to containing systemic financial risks and asset bubbles by the central government.
The banking regulatory chief also said that the sector should offer greater financial support to smaller companies.
"Offering effective support to the real economy and providing better service to the clients are the most important standards to measure the success of the banking industry's reforms," Guo said.
Guo also urged the banks to strengthen the protection of investors' interests.
"The banks must explain clearly to their clients the nature of the investment products, the underlying assets as well as the potential risks," Guo said.
Zeng Gang, director of banking research at the Institute of Finance and Banking at the Chinese Academy of Social Sciences, said that Guo's statement reflected the greater attention of the government on preventing financial risks and protecting investors' interests.
"We are expecting more policies and new rules to be rolled out soon to fill the regulation gap and to better protect investors' interests," Zeng said.