Aramco eyes downstream deals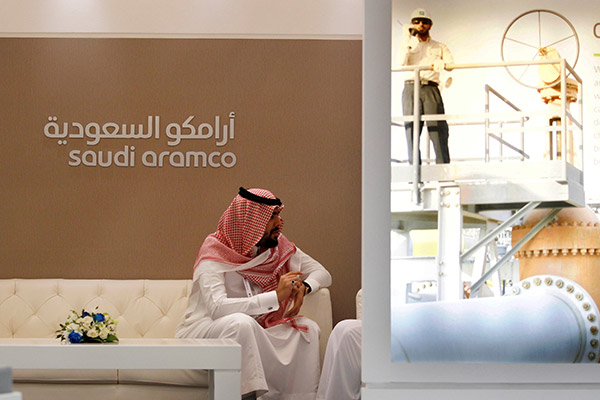 A Saudi Aramco employee sits in his company stand at the Middle East Petrotech, an exhibition and conference for the refining and petrochemical industries, in Manama, Bahrain. [Photo/Agencies]
The world's largest oil producer Saudi Arabian Oil Co, also known as Saudi Aramco, is set to continue beefing up investment in China's integrated downstream to further bolster its presence in the world's second-largest economy, its President and Chief Executive Officer Amin Nasser said.
Aramco is pressing ahead looking for indigenous partners to establish more joint ventures in China for downstream businesses, including refining, chemical, retail and distribution, Nasser told China Daily in Beijing on Monday.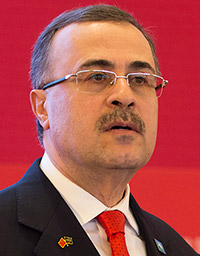 Amin Nasser, president and CEO of Saudi Arabian Oil Co. [Photo provided to China Daily]
Part of the company's plans includes raising the proportion of its crude oil exports to China in the next couple of years, a move Nasser said would help China's energy security. Currently, Aramco's crude exports to China are nearly 15 percent of the nation's total imports.
The strategy at the heart of Aramco's plan is to secure its market share of oil supply by matching the refining capacity with crude exports to China, analysts said.
Kunal Agrawal, a senior Asia-Pacific oil and gas industry analyst at Bloomberg Intelligence, said that considering the growing demand in the Asian refinery sector, the Saudis would continue to seek investments in the region in the next few years.
Saudis produce 10 to 11 million barrels of crude a day. Their refining capacity is 3 million barrels at home and will be increased to 3.5 million by 2020, he said.
Agrawal said: "Now if they can secure take-or-pay contracts for refining the remaining 6.5-7.5 million barrels a day in markets abroad, they will have locked down their crude oil supply share forever. After that, the Saudis will be assured that there is end demand for all their oil."
In addition to Aramco, Chinese companies are also eager to reach a consensus on such cooperation, as the output of China's crude oil began to decline last year, said Xi Jiarui, a senior crude industry analyst at the Beijing-based JLC Network Technology Co Ltd, a commodity information provider.
During the visit to China, Nasser signed a memorandum of understanding with Beijing-based China North Industries Group Corp on cooperation over refining.
Aramco has two joint ventures with local firms in Fujian province, one being a venture with Sinopec and another with Exxon Mobil Corp.
With regards to its plan to go public in 2018, predicted to be the largest IPO in the world, Nasser said: "Things are going very well."
More details will be disclosed in the coming months since the process of the initial public offering is under way, he added.