Processing the world's phosphorus perfectly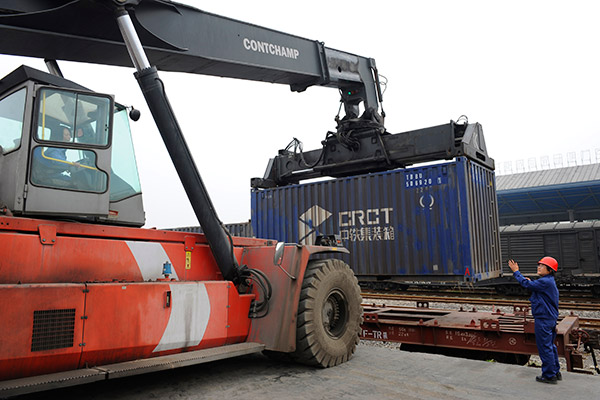 Porters at work at a railway yard at Wengfu's plant premises in Guizhou province. [Photo/China Daily]
Wengfu blazes a trail with frenetic expansion and big tech exports
In 2007, China's Wengfu (Group) Co Ltd achieved what was then truly extraordinary-the State-owned phosphorus and chemicals manufacturer outplayed many European and US counterparts to win the bid for the then world's largest mineral-processing project in Saudi Arabia.
That set the tone for its frenetic global activity ever since. It launched a number of projects in nearly 10 countries and regions covering northern and western Africa as well as the Middle East.
Today, Wengfu is pressing ahead with more than 30 overseas projects in countries such as Vietnam, Indonesia, India, and Kenya, most of which make use of its technologies related to mining and processing.
That's not all. Wengfu's senior executives said the company is now set to continue its overseas expansion into economies covered by the Belt and Road Initiative, which aims to connect Asia with Africa and Europe through an infrastructure and trade grid along the ancient Silk Road.
In the past three years, China signed nearly 50 government-level cooperation agreements in the Belt and Road countries and regions, according to the National Development and Reform Commission, the country's top economic planner.
Outbound investments in economies along the Belt and Road are worth over $50 billion, and have resulted in better-than-expected achievements, said He Lifeng, minister of the NDRC.
Companies such as the Guizhou-based Wengfu can take some credit for that. The SOE is adopting diverse models of cooperation to gain a firmer foothold in foreign markets that lack the ability to mine or process natural resources like phosphorus, an essential mineral.
From Wengfu's perspective, rich ores overseas need to be exploited further. Its overseas goal is consistent with the current domestic situation. The chemical producer has been largely reliant on domestic market so far.
It made a profit all right last year, but it was small as the rebound in coal prices pushed up its already-high costs. Revenue remained around 40 billion yuan ($5.79 billion), according to Jin Gang, assistant general manager of Wengfu and a lawmaker who attended the annual session of the National People's Congress in Beijing earlier this month.
By 2020, Wengfu plans to invest about $4.3 billion to spur growth, and part of the budget will be allocated to strengthen efforts in overseas markets, especially along the Belt and Road markets, he said. "Technology exports will remain our priority."
Founded in 1990, Wengfu started operations in 2000. Since then, it has mastered its low-cost, high-yield phosphorus-mining technology, which helps extract 95 percent of the mineral from phosphate ore, after removing impurities.
Jin said Wengfu's overseas strategy has evolved in the past decade from exporting raw material like phosphate fertilizers and processed products like iodine to transferring higher value-added technologies.
Such a change dovetails with the government's endeavor to increase the share of high-value services in China's exports.
The group also owns national-level laboratories and research facilities for post-doctoral researchers. This initiative has resulted in over 2,000 patents so far.
Zhang Tao, CEO of Wengfu Engineering and Contracting Co, the subsidiary in charge of overseas business, said Wengfu's business tie-ups overseas vary with client needs, but its focus is fixed on giving full play to its technologies and professional services.
For example, the company is in talks with some parties to finalize investment terms for building factories in countries and regions mentioned above. The latter will apply its world-class technology to extract anhydrous hydrogen fluoride or AHF at a lower cost. AHF is a chemical product extracted from phosphorus for industrial use.
"Many markets have showed strong interest in such projects," Zhang said. "We will decide by evaluating the quality of mineral deposits, the investment environment and the market size. For other potential clients, we could tailor services as per their preference-let's say, we may send our consultants or provide EPC (engineering, procurement and construction, a common form of contracting in the construction industry) projects."
Wengfu faced its share of legal, cultural and religious challenges overseas. The only way out was to join forces, Zhang said.
"Vicious competition always drags everyone down. Chinese companies need to beef up their respective advantages," he said.
He cited Wengfu's collaboration with China Huanqiu Contracting and Engineering Corp, its one-time competitor, for the second phase of Saudi Arabia's project.
"Our partner has more experience in networking and project management in Saudi Arabia, while Wengfu, a latecomer, used technologies to its advantage. It was a win-win for both of us."
Thus far, Wengfu has implemented projects in partnership with many Chinese machinery producers and construction firms.
Zhou Liqun, general manager of State-owned China Chengtong International Investment Co Ltd, said prudent risk management plays a key role in fulfilling the goal of overseas investment.
"Chinese companies should avoid internecine competition," he said, referring to the irrational, competitive overseas investment frenzy among some domestic corporates.
Although it has come a long way in global markets since the 2007 Saudi project, Wengfu feels it's still early days.
According to Jin, Wengfu has reached a stage where greater emphasis is put on project quality and safe operations, rather than just earnings numbers.