All set to touch down in more overseas airports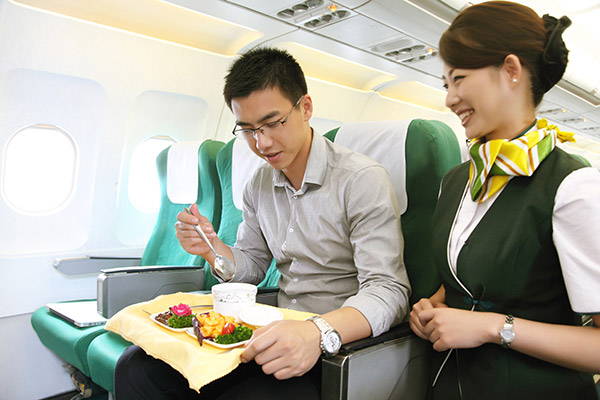 A Spring Airlines flight attendant serves a meal to a passenger in the 'Spring Plus' class, the business economy segment of the aircraft, during a flight. Spring Plus is the only class that offers food to fliers during flights of the budget airline. [Photo provided to China Daily]
Spring Airlines plans new flights from Chinese cities to neighboring markets
Spring Airlines (later abbreviated as Spring), China's first and largest budget carrier, is sewing up plans to consolidate and expand its overseas forays.
China's most internationalized airline, Spring already has nearly 40 percent of its capacity serving international flights.
This year, Spring plans to launch more routes from some Chinese cities to Phnom Penh in Cambodia, and expand the markets in Phnom Penh and Cebu in the Philippines. Besides, more routes from inland Chinese cities to Japan are in the pipeline.
"Because of the limited scheduled flight time of major airports, most of our international flights are mid- and short-hauls between second- and third-tier Chinese cities and first- and second-tier foreign cities," said Zhang Wu'an, vice-president and spokesman for Spring Airlines.
"For instance, we have flights connecting (Chinese cities such as) Shijiazhuang in Hebei province with Nagoya in Japan, and Yangzhou in Jiangsu province and Lanzhou in Gansu province, with Bangkok. In addition, we have flights connecting Chengdu in Sichuan province with Phuket."
Given the government's strategic objective to expand the Belt and Road markets, and an increasing demand for outbound tourism from Chinese travelers, it's very necessary for domestic airlines to add more international flights, he said.
So, starting from 2015, Spring has launched flights from Chinese cities to destinations along the Belt and Road markets. Those routes include flights from Xi'an to Osaka in Japan, from Chengdu and Shenzhen to Siem Reap in Cambodia, and from Guangzhou to Phnom Penh, capital of Cambodia. The routes have played a crucial role in guiding Spring's expansion into more overseas markets.
Established in 2004, the Shanghai-based Spring is the aviation subsidiary of Shanghai Spring International Travel Service. It became the first budget airline in China to set up an overseas joint venture. Currently, it has a subsidiary in Japan, and overseas bases in South Korea and Thailand.
By June last year, Spring's fleet comprised 60 Airbus A320 aircraft. By 2020, it plans to own 100 A320 jets in all. Since the second half of 2016, Spring adjusted part of its international capacity to the domestic market, due to volatile political situations in some countries in the region.
"All of our aircraft are Airbus A320, and largely we have only economy class. The single type of aircraft and class setup have enabled us to lower the costs of staff license training, air materials reserve and flight maintenance management. After modification, we increased cabin capacity to 186 seats. Our average passenger occupancy rate is around 95 percent, which makes us one of the domestic airlines with top occupancy rate," Zhang said.
"We simplified ground and cabin services, and lowered the weight limit of free check-in baggage. We also sell the tickets through direct online and mobile selling, instead of relying on agents. These measures have helped us to reduce the costs and flight ticket prices.
"With our low-cost operating model and price advantages, we would like to further discover the potential markets in second- and third-tier cities. We hope to exploit growth opportunities presented by China's new wave of urbanization."
Zhang further said the airline currently faces cost challenges from rising fuel prices, a major part of the company's operational costs. Besides, competition from overseas budget airlines is intensifying.
Li Xiaojin, a professor of aviation economics at the Civil Aviation University of China in Tianjin, said: "The oil price rise will have a negative effect on domestic airlines. Airlines are very susceptible to fluctuations in oil prices, and it will be a challenge to their economic performance.
"The oil prices are unlikely to drop or surge significantly. Airlines could take some steps to hedge against the risks. They can prepare to levy a fuel surcharge on passengers and take other measures to reduce oil consumption, as the impact is likely to be long-term," he said.