Luggage rolls into smart space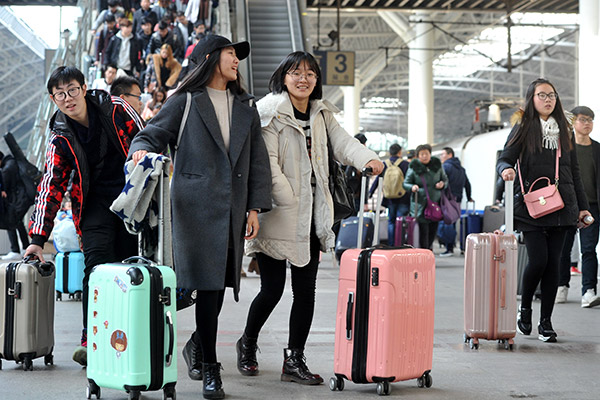 Passengers carrying trendy trolley suitcases arrive at Nanjing Railway Station in January 2017. [Photo/China Daily]
Chinese wanderlust spurs sales surge
In 2016, as many as 120 million Chinese traveled overseas and, in doing so, spawned not just the world's largest outbound travel market in China, but a mammoth opportunity for luggage makers, including expensive global brands.
China is now the world's largest luggage market. Retail sales grew by 8 percent and reached 30.9 billion yuan ($4.48 billion) in 2016, according to consultancy Euromonitor International.
For the evolving Chinese traveler, luggage is no longer just a box to stuff personal stuff into-it is a statement of personal taste, fashion and status, an extension of style, an opportunity to indulge in fancy designs, features and colors, and a high-end accessory.
Manufacturers are tapping into this attitude by making large, durable, funky luggage, a segment that has seen sales boom in China.
Neil Wang, president of market research agency Frost & Sullivan Greater China, said that with an increasing demand for high-end and diversified luggage products, various trendy and smart suitcase categories have sprung up.
"There are some smart designs with GPS built into the suitcase to prevent the risk of loss. Another high-tech suitcase made by an Israeli company can follow the owner and roll by itself, avoiding obstacles," he said.
"Other smart features include control of the switch lock through mobile phones. Some suitcases can automatically weigh themselves. Other suitcases are equipped with USB ports inside."
Consequently, retailers have never been so bullish about the growth prospects as they are now.
Last year, the travel luggage segment recorded the highest growth (8 percent) in value terms among all bags and luggage categories in China.
The average unit price of bags and luggage edged up last year, as more consumers upgraded from unbranded goods to branded, mid-priced or high-end products, Euromonitor said.
Besides, it found that more Chinese consumers prefer hard-case luggage for its durability and resilience.
Tao Ziqian, a 24-year-old consumer from Nanjing, Jiangsu province, owns two Rimowa suitcases, which he bought in the United States. The bigger one cost him about $1,000 and the smaller one about $400.
"When I choose luggage, apart from appearance, durability is very important. I don't want to see my suitcases break when I check them in for my flights," he said.
Charles Yong, general manager of Rimowa Far East Limited, said: "Consumers are no longer taking luggage just as traveling tools. More Chinese travelers take luggage as diversified and individualized accessories, and they choose luggage in line with their tastes."
Chinese travelers' strong desire for shopping abroad has made large, lightweight and tough suitcases popular. Such luggage allows more stuff to be packed in and yet conforms to many airlines' weight limits for checked-in luggage.
Some hard-case brands have therefore become more aggressive in their attempts to win consumer acceptance.
Rimowa, a German luggage manufacturer, which is known for its aluminum luggage and was bought out by LVMH in January this year, said it has seen good growth in China last year, despite slowing economic growth. The brand foresees significant growth potential for its products in the country.
Rimowa and Samsonite, a top luggage player that acquired Tumi in August last year, together take up over a quarter of the global market.
Rimowa's Yong said: "This is our tenth year in the China market, which is still nascent. In second- and third-tier Chinese cities, there are a vast number of consumers that we can still discover. Meanwhile, we have launched online stores on Tmall and JD. We are also improving our marketing efforts through social media."
Such intense efforts can be traced to the strong demand among Chinese for both domestic and outbound travel in recent years.
In the past decade, the number of domestic tourist trips has risen more than threefold from 1.2 billion in 2005 to nearly 4 billion in 2015, said a report of Singapore's DBS Bank.
Yet, there is a low penetration rate of luggage sales in China. In 2015, the per capita expenditure on luggage in China was $2.9 a year, much lower than $32.3 in Japan and $24.8 in North America.
DBS sees ample room for growth of luggage sales, especially in some Asian countries like China, India and South Korea.
Zheng Yiran contributed to this story.