Kenyan mango farmers eye China sales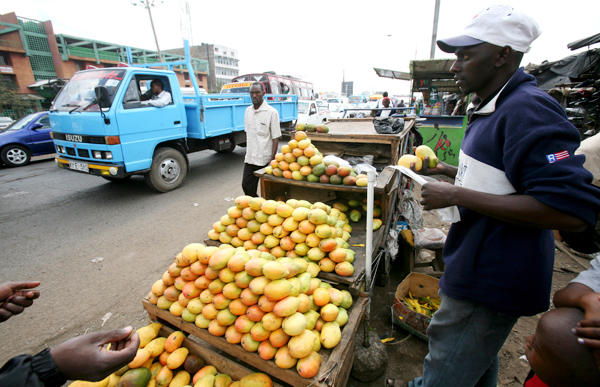 A trader sells mangoes in Kenya's capital Nairobi. THOMAS MUKOYA / REUTERS
NAIROBI-Kenya's mango farmers will soon be able to export their produce to China to prevent a price slump amid an abundant harvest, a chamber of commerce official said at the weekend.
Chairman of the Kenya Chinese Chamber of Commerce, Zhuo Wu, said during the Chinese Mango Festival held in Nairobi that they would soon start exporting Kenyan-grown mangoes to China in order to boost local farmers' incomes.
"We will work together with Kenyan mango growers to assist them to source for market for their products, in order to absorb their bumper harvest," Zhuo said.
Zhuo said the Kenyan farmers from Machakos County, one of Kenya's drought-stricken areas, approached the trade federation to help find markets for their produce to prevent the perishable fruits from going bad and hence incurring losses.
"We responded to their appeal and were able to purchase 15 metric tons of mangoes, in the process putting money into their pockets," Zhuo said.
East African Legislative Assembly Member of Parliament Peter Mathuki said the initiative had created awareness and visibility for the products and expanded the farmers' pool of potential buyers.
"The Chinese have shown true friendship especially by buying the mangoes, at almost three times the market price, in order to assist their Kenyan brothers so that their farm products do not go bad," the lawmaker said.
He said Chinese investors would be welcome to build factories in the area to take advantage of the abundant mangoes grown in the county.