Kenya on track for modern rail network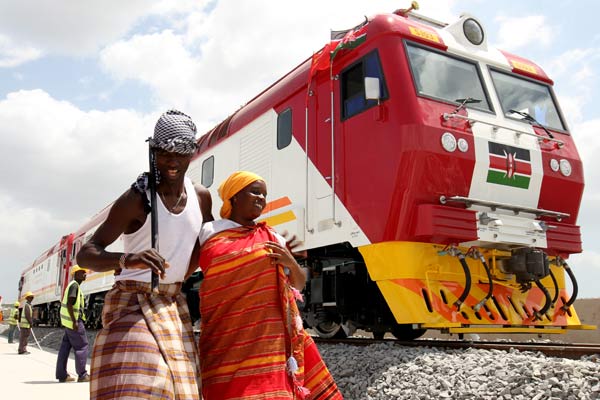 Locals stand beside one of the six China-made locomotives at the Port Reitz in Mombasa, Kenya. The country's first modern railway line is near completion. [Photo by Xing Yihang/ For China Daily]
The construction of Kenya's modern railway entered the home stretch on Wednesday, with the delivery of six locomotives from China.
Manufactured by China Railway Rolling Stock Corp Qishuyan Co, the first delivery marks the near completion of phase one of the standard gauge railway project, undertaken by China Road and Bridge Corp.
The line, 90 percent of whose $3.45 billion funding came from China Import and Export Bank, links the country's biggest cities-Mombasa and Nairobi. The line will be served by a total of 56 locomotives, 1,620 freight wagons and 40 passenger coaches.
While receiving the four freight and two shunting diesel electric locomotives at Port Reitz in Mombasa, James Macharia, Kenya's cabinet secretary in the Ministry of Transport, Infrastructure, Housing and Urban Development, acknowledged that China's unwavering support helped enable the East African economy to successfully undertake the rail project.
"Three years ago, many people thought the whole project was a pipe dream. But today, the reality is that phase one is essentially complete. It is unheard of for a project of this magnitude to be completed way ahead of time and within budget," he said.
Macharia said that the favorable and conducive environment created by the railway line will attract investors from all over the world seeking to take advantage of the low cost of production and transportation, and a captive regional market.
"The infrastructure will not only make the region competitive but will also stimulate the development of special economic zones along the route. This is in line with the region's economic vision."
He said CRBC has been chosen to operate and maintain the infrastructure for 10 years as the country ramps up its skills capacity.
"Already, more than 300 students are undergoing training locally and in the field. It is expected that by the end of this year, a further 500 students will have completed their training.
"These are in addition to 25 students on undergraduate courses of up to five years at Beijing Jiaotong University. Another 75 are expected to join this program in 2017 and 2018," he said.
Li Qiang, deputy general manager of CRBC, said that the locomotives have been customized to suit Kenya's tropical savannah climate.
The second batch of six-four freight and two passenger locomotives-will be delivered by February and the remaining 44 by May.