Shanxi mines cash in on coal price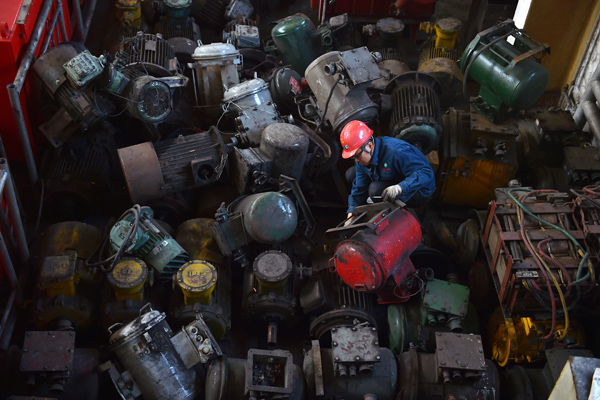 A technician of Datong Coal Mine Group in Shanxi repairs equipment. ZHAN YAN / FOR CHINA DAILY
Analyst says major producers expect to see steady stream of earnings
Major listed coal companies in Shanxi province, the country's largest coal production base, expected to see profit growth in 2016-thanks to rising coal prices resulting from the nationwide capacity reduction campaign-according to previews of their annual reports.
Shanxi Lu'an Environmental Energy Development Co Ltd said in a public filing that it expected to make a net profit between 680 million yuan ($99 million) and 950 million yuan last year, up from 103 million yuan in 2015.
Lu'an said the earnings hike was due to sharply rising coal prices in the second half of last year.
Likewise, Shanxi Xishan Coal and Electricity Power Co Ltd estimated that its profit would hit 367 million-437 million yuan last year, up 160 to 210 percent on a year-on-year basis. Yang Quan Coal Industry (Group) Co Ltd estimated its profit would rise more than threefold year-on-year.
Zhang Min, a coal industry analyst at Beijing-based JLC Network Technology Co Ltd-a commodity information provider, said coal prices are estimated to remain stable this year, although she foresaw a low point in March or April due to seasonal shrinking demand
"The coal price will gradually become stable this year, because quite a few coal producers signed medium- and long-term supply contracts with their buyers as the government guides the market to avoid violent fluctuations in price," Zhang said.
Therefore, major coal firms are expected to see a steady stream of profits this year, Zhang said.
The National Energy Administration earlier set a goal to cut 50 million metric tons of coal capacity in 2017, down by 80 percent on the 2016 target of 250 million tons.
Zhang said it is an "achievable goal" for this year. "The goal meets the real needs of Chinese market, and would avoid large price fluctuations."
According to the China National Coal Association, the combined profits of coal companies, with government subsidies, amounted to 32 billion yuan, up 363 percent year-on-year.
China has set goals to cut 800 million tons of insufficient coal capacity by 2020.
Last year, China's output of coal decreased by 11.2 percent year-on-year to 2.3 billion tons, according to the China National Coal Association.
Coal prices started to soar last July, partly due to the government's resolution in cutting excessive capacity, JLC analyst Zhang Min said.
The price of thermal coal, which is mainly applied to generate electricity in power stations, at one time surged to 700 yuan per ton, compared with 200 yuan per ton in the beginning of the year. In the same period, the price of coking coal, a key raw material in steelmaking, once amounted to 1,800 yuan per ton.