Shenzhen, HK lauded as bastions for entrepreneurs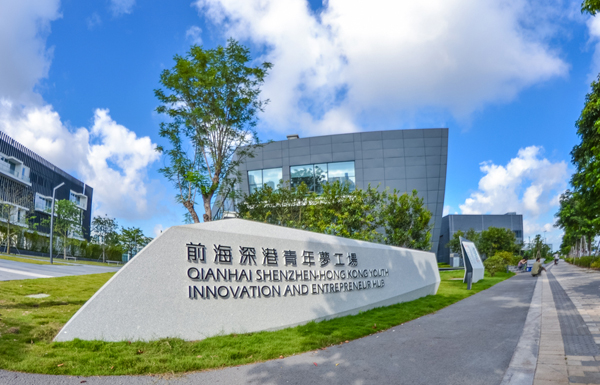 View of Qianhai Shenzhen-Hong Kong Youth Innovation and Entrepreneur Hub in Shenzhen, Guangdong province, Aug 19, 2015. [Photo/VCG]
New research released on Wednesday by universities found that entrepreneurship in Hong Kong and Shenzhen is alive and well and on the rise, and said both cities could join hands to create an unparalleled ecosystem for business startups.
The findings were released by the Global Entrepreneurship Monitor-a comparative study used by such organizations as the UN and World Bank-in its Hong Kong and Shenzhen Report.
It found that all types of entrepreneurial activities recorded an increase in both cities, in contrast to declining entrepreneurship levels in other cities in China.
However, Shenzhen had a stronger entrepreneurship culture than its neighbor, it said.
In mid-2016, the proportion of Shenzen's adult population involved in early stage entrepreneurial activities was estimated at 16.04 percent, while it was 9.44 percent in Hong Kong, although the latter experienced rapid growth compared with the level of 3.64 percent in 2009.
The report also found that Shenzhen citizens held a more optimistic view on starting their own business. About 70 percent regarded entrepreneurship as desirable career choice, while only 58 percent of Hong Kong residents believed the same.
But the two cities provided different advantages for startups and by working together they could strengthen their competitiveness in both domestic and international markets, said Kevin Au at the Chinese University of Hong Kong.
Marta Dowejko, research assistant professor at Hong Kong Baptist University's School of Business, compared the two cities and concluded that Shenzhen was driven by highly skilled and self-selected "crea-preneurs", while Hong Kong was driven by market-focused and sustainable "develop-preneurs".
"Shenzhen is strong in manufacturing capabilities and supply chain integration, while Hong Kong had easier access to global markets, funding opportunities and skilled employees," she explained. "So together, they can provide better services for startups."
Moreover, Shenzhen's startups are well geared to deliver innovative ideas with high growth potential and its strong entrepreneurship culture attracted many skilled staff and funding, she added.