China to avoid financial shock, hit high income status by 2027: Morgan Stanley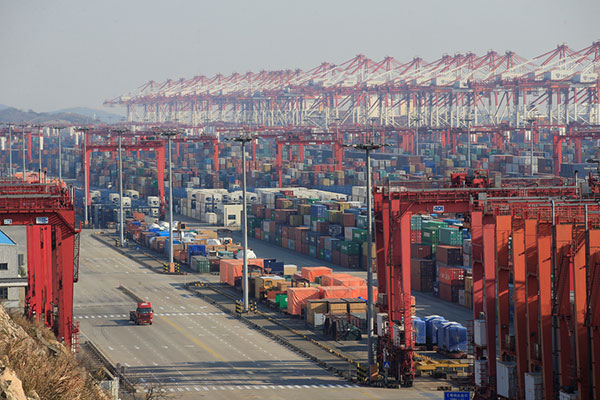 Containers are seen at Yangshan Deep Water Port, part of the Shanghai Free Trade Zone, in Shanghai, Feb 13, 2017. [Photo/Agencies]
Morgan Stanley is bullish on China's long-term economic outlook in its recent report, saying the country will avoid a bank crisis and surpass the World Bank's standard of high income status by 2027 (a per capita GDP of $12,476), Bloomberg reported.
While international investors fear China's outstanding debt levels, slower reform pace and potential trade friction with the US, Morgan Stanley believes the country's prospects are bright, explaining China's growing emphasis on high value-added manufacturing and services will boost its economy.
Chinese people's per capita income is expected to pass $12,900 in the next decade, compared to $8,100 today, the report predicted. It will help China follow South Korea and Poland to become the third large economy with a population of over 20 million to avoid the middle income trap from the past three decades.
Although analysts estimate China's debt-to-GDP ratio has jumped from 147 percent in 2007 to 279 percent last year, they believe the risk of a financial shock is low.
It is because the debt is funded by China's own savings instead of external finance and most of it has been used for investment rather than consumption, the report said. And China's sound net asset position can provide a buffer, along with a positive net international investment position, a current account surplus, high foreign reserves and no significant inflationary pressures.
The analysts predict China's private consumption will reach $9.7 trillion by 2027 and services sector will be valued at $12 trillion, 60 percent of GDP, by 2030. New, high-value added industries such as health care, entertainment, education and environmental services, will boom as China's supply-side structural reform carries on, the report said.
The analysts indicate it is unlikely to see a one-off devaluation of the Chinese currency renminbi, or the yuan, despite potential further weakening.
China's policymakers are unlikely to pursue growth at all costs any longer, as they are now signaling a willingness to accept slower rates of growth, and place more focus on preventing financial risks and asset bubbles, according to the report.
The analysts estimate growth will average at about 4.6 percent in 2021-2025, saying China today is arguably better positioned to still achieve growth rates that can outpace global growth.
The report said risks still exist, depending mostly on China's commitment to tackling the debt pile and reshaping State-owned enterprises.