Currency deal with US possible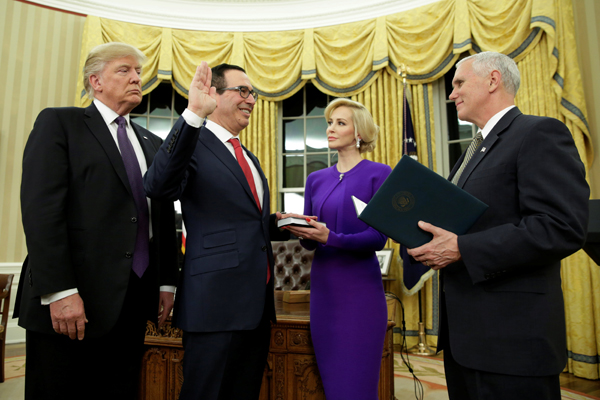 US President Donald Trump (left) watches as Vice-President Mike Pence (right) swears in Steven Mnuchin as treasury secretary at the White House on Monday. [Photo / Agencies]
China hopes that other nations will see the renminbi's exchange rate "in a right manner", a Foreign Ministry spokesman said on Tuesday, in response to news that Washington may be exploring ways to avoid a confrontation with Beijing over currency.
The issue again rose to the surface with the swearing in on Monday of Steven Mnuchin, as US treasury secretary. Mnuchin, who has called China a currency manipulator, was promptly sworn in after his confirmation by the US Senate.
Analysts said dialogue between China and the US will be of vital importance during the next two months, given that Washington is set to issue its next report evaluating the foreign exchange practices of major trading partners on April 15.
China has never undervalued its currency to get an export advantage, Foreign Ministry spokesman Geng Shuang said at a regular news conference. Geng said China will continue to reform its renminbi rate setting procedures.
Geng's comments were made in response to a Wall Street Journal report that the administration of US President Donald Trump is considering ways to avoid confronting Beijing over currency.
Instead, the US commerce secretary would designate currency manipulation as an unfair subsidy when employed by any country, instead of singling out China, the newspaper reported.
The administration would avoid, at least for now, accusing China of manipulating its currency, it said.
Trump threatened during his campaign to label China a currency manipulator. But he has softened his tone since then. In an interview with The Wall Street Journal last month, Trump said he wouldn't name China a manipulator on his first day in office as previously promised.
"I would talk to them first," he was quoted as saying. "Certainly they are manipulators. But I'm not looking to do that."
Jin Yong, a professor of international relations studies at the Communication University of China, said that if the new approach is used, it would suggest Trump is taking a softer approach toward China.
Labeling China a currency manipulator could lead to trade conflicts between the world's top two economies, hurting everyone, he said.
Li Haidong, a professor of US studies at China Foreign Affairs University, said that Beijing and Washington are likely to engage in tough negotiations in coming months, given that the label of currency manipulator would harm China's trade interests.
"There are likely to be compromises on both sides in the dialogue on currency," he said, adding that Trump may still label China a currency manipulator if negotiations break down.