Osram deal to get green light soon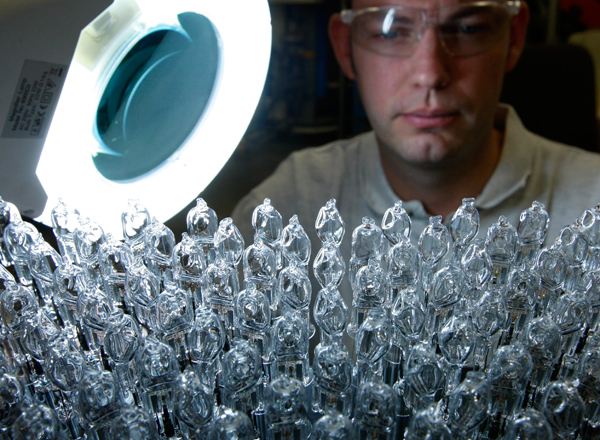 An employee checks halogen inserts for low energy consumption light bulbs at an Osram factory in Molsheim, France. [Photo / Agencies]
Countries related to sale already OK'd transaction
China will give the green light soon to a Chinese consortium's acquisition of an LED lighting unit of Osram Licht AG, after the German company gained approval from the anti-monopoly authorities in all other related countries, experts said on Monday.
The comments came after the Committee of Foreign Investment in the United States, a multiagency panel chaired by the Treasury Department, approved the 400-million-euro ($425.6 million) purchase of the German group's LED lighting unit, also known as LEDVANCE, by Chinese buyers last week.
Because LEDVANCE has assets and manufacturing facilities in a number of countries, the deal has been approved by anti-monopoly authorities in the US, Macedonia, Mexico, Turkey, Germany, Poland and Russia.
Li Gang, vice-president of the Chinese Academy of International Trade and Economic Cooperation in Beijing, said the robust growth of China's outbound direct investment would not change because current economic development requires that domestic companies use resources in global markets.
The Munich-based manufacturer of lighting products and semiconductors said the deal is still awaiting approval from China's State Administration of Foreign Exchange, the final government authority to approve the purchase.
"As China is upgrading its manufacturing ability to more advanced and internet-connected products, this deal certainly will be cleared by government branches soon to encourage domestic companies to invest in high-end, smart and green manufacturing abroad," said He Jingtong, a professor of international trade at Nankai University in Tianjin.
The Chinese consortium was formed by Sanan Optoelectronics Co Ltd, IDG Capital Partners and Yiwu State-Owned Assets Operation Center. The consortium's bid was cleared by Germany in January.
He said even through the mood for trade protectionism has grown fast since the United Kingdom's decision to leave the European Union, the German and the US governments were aware that controlling risks and cooperating with China would benefit all sides.