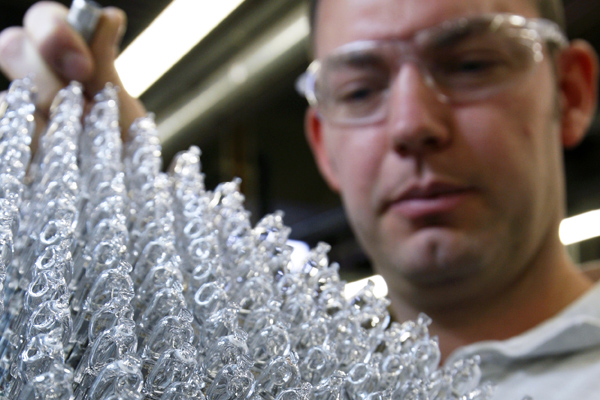 An employee checks halogen inserts for energy-efficient light bulbs at an Osram factory in Molsheim, France. [Photo/Reuters]
Chinese lighting maker Sanan Optoelectronics Co Ltd has announced it has had talks with Germany's Osram Licht AG about a potential acquisition, although discussions were in the very early stage and no details were finalized.
Sanan said it had an "initial communication" with Osram on a potential acquisition or cooperation and met Osram once, according to a statement released to the Shanghai Stock Exchange on Monday.
The company has not had any negotiations with Osram regarding the transaction details, including the price, and no binding documents have been signed, it said. There are "significant uncertainties" on whether a deal would take place, the statement said.
Osram shares closed 1.6 percent lower at 56.81 euros ($63.28) in Frankfurt, putting gains since the start of the year to 46 percent and giving the company a market value of 5.9 billion euros.
Sanan shares rose by 3.83 percent to close at 12.47 yuan ($1.85) on Tuesday.
Should the purchase be completed, the Chinese company would gain control of a German high-end lighting maker that makes products such as the headlights that go into the latest BMW 7-series cars. A deal would build on the more than $190 billion in foreign acquisitions that Chinese companies have announced this year, according to estimates.
Sanan makes products that go into indoor and outdoor lighting, as well as traffic lights and aerospace lighting. The group listed on the Shanghai bourse in 2008.
Munich-based Osram was spun off by Siemens AG three years ago. Siemens, which still owns 17 percent of Osram's shares, is considering offloading its remaining stake to potential buyers including Chinese investor GSR GO Scale Capital, sources with knowledge of the talks said last month.
Sanan is preparing to offer about 70 euros a share, German business news magazine WirtschaftsWoche reported on Thursday, citing sources.
Osram spokesman Philipp Grontzki declined to comment.
"For Sanan, Osram is a highly-attractive asset that would add quality and access to customers in Europe," said Karsten Iltgen, an analyst at Bankhaus Lampe in Dusseldorf, who has a "buy" rating on Osram shares. "Even though the company is smaller and less profitable than Osram, they may well be able to finance such a transaction."
Sanan's first-half sales rose to 2.78 billion yuan from 2.29 billion yuan the previous year, the company said. The company is valued at 49 billion yuan.