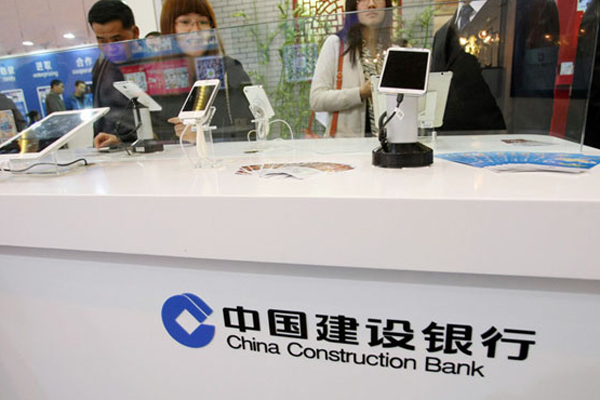 Employees are seen at the stand of China Construction Bank (CCB) during an exhibition in Shanghai, November 23, 2013. [Photo/IC]
China Construction Bank Corp announced on Tuesday that it has established a 24-billion-yuan ($3.57 billion) transformation and development fund jointly with Wuhan Iron and Steel (Group) Corp to reduce the company's leverage, mainly through debt-to-equity swaps. So far, the company has received half of the fund's amount.
The debt-to-assets ratio of Wuhan Iron and Steel reached 76 percent at the end of 2015, higher than the industry average of 67 percent. CCB is aiming to help lower the ratio to about 65 percent, said Zhang Minghe, head of CCB's debt-for-equity swap program.
Earlier this year, the State Council approved the merger and restructuring of two of China's largest steel producers, Baosteel Group Corporation and Wuhan Iron and Steel.
"The products of Wuhan Iron and Steel have great market prospects although the company is facing temporary difficulties and is reducing part of its capacity according to government requirements. We have confidence in the restructuring of Baosteel and Wuhan Iron and Steel, which will bring synergistic effects in terms of strategies, markets and clients," Zhang said.
CCB has been in touch with a number of State-owned enterprises and private companies that expressed their interest in debt-to-equity swaps. The bank is concentrating the program on leading companies in traditional sectors with excess capacity, such as iron and steel, coal and chemical industries, as well as strategic emerging industries. The corporate debts to be swapped will include loans categorized as "pass", "special-mention" and "non-performing".
Currently, the bank is carrying out debt-to-equity swaps by setting up funds. Like many other commercial banks, it is seeking to set up its own investment management company.
"We'll actively apply for regulatory approval of our establishment of an investment management company," said Zhang.