EU proposes extension of Chinese solar duties by 18 months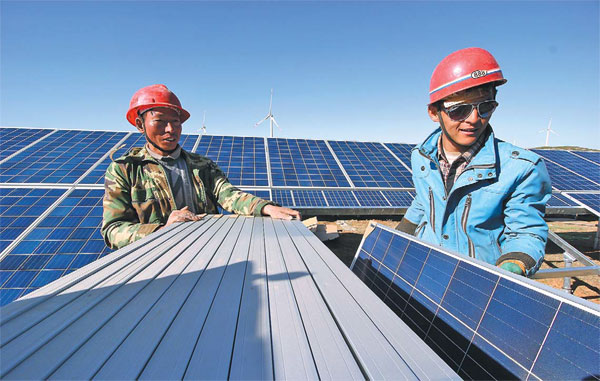 Workers install solar panels at a photovoltaic power station in Weining, Guizhou province. [Photo provided to China Daily]
BRUSSELS - The European Commission on Wednesday proposed an extension of import duties on solar panels from China by 18 months with a gradual phase-out, Commission Vice President Frans Timmermans said on Wednesday.
Timmermans told a news conference that the decision was made after taking into account the different interests at stake, including member state opinions.
"Solar energy is essential for our environmental and climate goals, that is why the College today took the time for a careful and thorough weighing of the options," he said.
"The phase-out is also meant to make sure that producers of solar panels in the European Union have the time to adapt to the new situation. The precise conditions are something that will be up for debate, also with member states now," Timmermans added.
Those anti-dumping and anti-subsidy measures on Chinese solar products have been in place since 2013 and are currently under review as to whether they should be maintained.
Eighteen of EU member states last month opposed a proposed two-year extension.
This proposal will be sent to member states for further discussion and the case is expected to be settled in early March.