Guangdong's economy remains biggest, Chongqing leads growth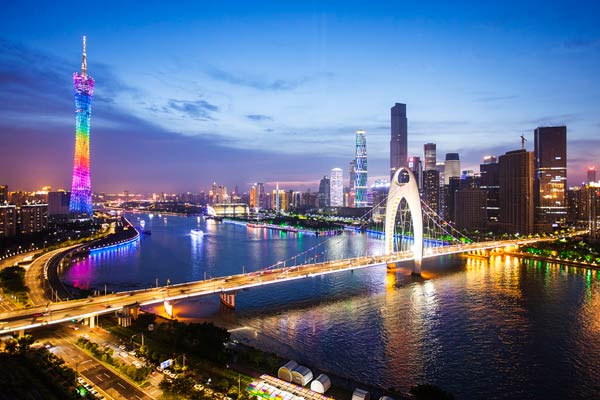 The Guangzhou skyline at night, Guangdong province, July 16, 2016. [Photo/VCG]
South China's Guangdong province has cemented its position as the country's largest provincial economy for the 28th consecutive year, with its gross domestic product (GDP) exceeding 7.9 trillion yuan ($1.15 trillion) in 2016.
Its GDP increased 7.5 percent compared to last year, according to a report by 21st Century Business Herald.
The next biggest provincial provinces were Jiangsu, Shandong, Zhejiang, Henan and Sichuan provinces. They finished in the same position as 2015, with GDP figures of 7.6 trillion yuan, 6.7 trillion yuan, 4.6 trillion yuan, 4 trillion yuan and 3.3 trillion yuan respectively.
Central China's Hubei province surpassed Hebei province for the first time to rank 7th with 3.2 trillion yuan, up 8.1 percent.
Nine provincial-level regions' GDP exceeded 3 trillion yuan in 2016, three more than the year before. The number of provincial-level areas with GDP surpassing 1 trillion yuan in 2016 remained 25.
Of the 27 provincial-level regions that outpaced the country's 6.7 percent GDP growth in 2016, only three regions - Chongqing, Guizhou and Tibet- achieved double-digit growth.
The GDP of Southwest China's Chongqing Municipality grew by 10.7 percent in 2016, hitting 1.76 trillion yuan. Southwest China's Guizhou province and Tibet autonomous region posted 10.5 percent and 10 percent growth respectively.
Six regions recorded GDP growth less than 7 percent, with China's north-eastern rust belt Liaoning province at the bottom with negative growth.
The government of Liaoning admitted in January that the province had falsified fiscal data from 2011 to 2014.
21st Century Economic Institute said the economies of China's central and western provincial-level regions were mainly driven by investment and consumption in 2016 and most of the regions continue rapid economic growth in 2017 with increasing investments and improving consumption levels.
The institute said all provincial-level regions have to seek their own way to develop through innovation and supply-side structural reform, as the old economic growth model is unsustainable.
Chongqing is on track to overtake North China's Tianjin Municipality in GDP in 2017, the institute predicted. Tianjin ranked 19th in 2016 with its GDP hitting 1.79 trillion yuan.
In addition, the institute projected that the GDP of Guangdong, Jiangsu and Shandong provinces would reach 8.5 trillion yuan, 8 trillion yuan and 7 trillion yuan respectively.