CSM to sell A-shares in 8 firms to meet requirements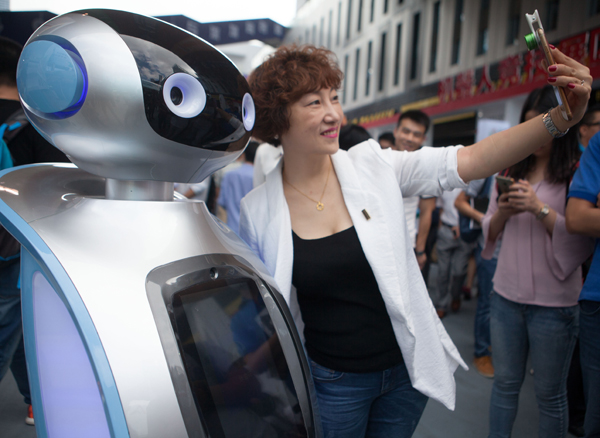 A visitor takes a picture with a smart robot at the launch of a comprehensive technology and financial services center sponsored by China Science and Merchants Capital Management Ltd in Guangzhou, Guangdong province. TAN QINGJU / FOR CHINA DAILY
China Science and Merchants move to boost private equity business
Chinese leading private equity firm China Science and Merchants Capital Management Ltd said it is selling shares in eight A-share listed companies this year, to meet regulatory requirements and expand private equity business.
According to a statement from the CSM Group, the firm will decrease its shares in Changzhou Tiansheng New Materials Co Ltd. It decreased shares in seven other A-share listed companies in January, including Dalian Sunasia Tourism Holding Co Ltd, Beijing Soft Rock Investment Group Corp and Shahe Industrial Co Ltd.
"The move by CSM Group is to meet the requirements of China's securities regulator and China's new third board, the National Equities Exchange and Quotations," said Zhang Bo, a managing director of Northeast Securities Co Ltd.
Liu Jianjun, deputy director of the department of private fund supervision at the China Securities Regulatory Commission, said late last year that private equity firms were not encouraged to participate in securities investments.
The NEEQ also released a statement last year for the private equity firms listed on the NEEQ. It said at least 80 percent of their revenue needed to be in the form of fees for managing their clients' assets.
Analysts said this means that CSM Group needs to increase its private equity and venture capital business.
Northeast Securities' Zhang added that China Science and Merchants Capital Management Ltd still regards listed companies as important platforms to develop businesses, and that is why CSM Group still held shares in A-share listed companies.
China Science and Merchants Capital Management Ltd spent at least 4 billion yuan ($583.1 million) to buy shareholdings of no less than 5 percent in each of 16 listed companies in 2015.
CSM Group held 21 percent in Netac Technology Co Ltd, according to the third quarter financial report of the listed company in 2016.
Peng Wei, secretary of the board of China Science and Merchants Capital Management Ltd, told China Daily that the CSM Group would decrease shares of listed companies based on market conditions.
"We will decrease our allocation in the secondary market and focus on supporting industry transformation and upgrading as well as innovation and entrepreneurship companies," said Peng.
The private equity firm and China Minsheng Investment Group announced in August last year that they would launch a 7 billion yuan mezzanine fund.