Tips on buying property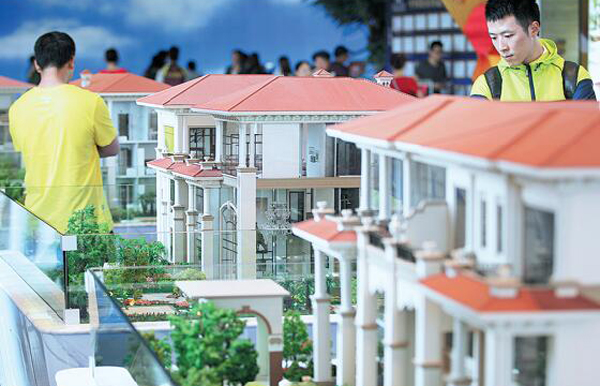 Potential homebuyers visit a property project in Danzhou, a city in western Hainan province. People from other provinces on the mainland are now the major buyers of properties in the tropical island. [Photo provided to China Daily]
As a "pearl" in the South China Sea, Hainan is blessed with blue waters, soft white sand, bright sunshine and vibrant rainforests. It is attracting more tourists on holidays or to even buy homes of their own.
Here is an overview of the island for people planning to buy houses in the province.
Nature's bounty
Hainan boasts 72 natural reserves, which cover 2.67 million hectares. As its forest coverage is 55 percent-the highest in the country, it really is nature's very own oxygen bar. The island has a large number of hot springs that are said to have a curative effect.
The island grows more than 500 kinds of fruits and vegetables, including lychees, durian, mangoes and pineapples.
Transport links
Hainan is connected to all major cities on the mainland and more than 50 overseas routes connecting roughly 20 countries and regions. The island greets visitors with a large number of tourist resorts, star-rated hotels, golf resorts and theme parks that are located in areas with charming tropical landscapes.
City life
In addition to the Sansha Islands which are about 340 kilometers away in the south, Hainan has 18 cities and counties, which are usually divided into three groups-the eastern, the middle and the western part.
The eastern part includes Haikou, Wenchang, Qionghai, Wanning, Lingshui and Sanya, which are favorite places for house buyers because of good infrastructure. The housing prices are among the highest on the island. The middle part includes Anding, Tunchang, Qiongzhong, Wuzhishan, Baoding and Baisha. The western part includes Chengmai, Lingao, Danzhou, Changjiang, Dongfang and Ledong. The opening of the high-speed railway encircling the island in late 2015 has driven up the local real estate market remarkably but the prices are still very competitive compared with the eastern areas.
Where to buy property?
Haikou and Sanya are the top choices if you have enough money. Current average house prices hover around 8,000 yuan ($1,170) per square meter in Haikou, while those in Sanya, which boasts the best tourist resources of Hainan, are roughly 20,000 yuan. Choose Sanya, Baoting, Lingshui or Ledong, which are located south of the 18 north latitude, if you just want a warm place to escape the cold weather in the north. If you want a warm home that costs less, then go to Wuzhishan, Lingao or Changjiang.