Mainland visitors to HK rise in New Year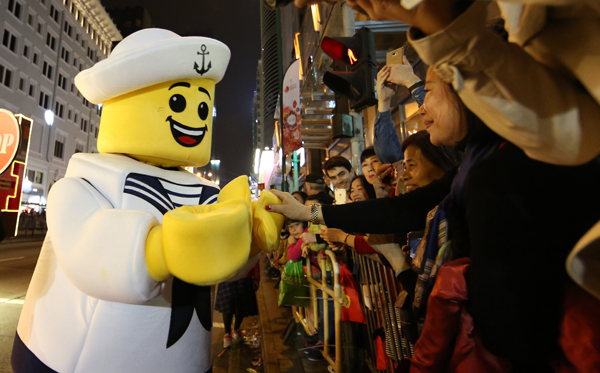 Visitors greet a cartoon figure during a Chinese Lunar New Year night parade in Hong Kong on Jan 28. [Photo/Agencies]
Mainland visitors to Hong Kong surged 6.6 percent during the Lunar New Year holiday, compared with the break the previous year, providing a welcome boost to the local tourism and retail industry after a two-year-long sluggish market.
According to the Hong Kong Immigration Department, the city received 930,463 mainland tourists during the seven days from the Lunar New Year's Eve on Jan 27.
Greg So Kam-leung, secretary of Commerce and Economic Development in Hong Kong, said the latest increase compared with the 12.1 percent year-on-year decrease in mainland visitors for the holiday the previous year.
The official added that the total number of international visitors to the city during the holiday period grew by 5.1 percent.
He said he hoped to attract more tourists from all parts of the nation to the city by introducing cultural projects and various celebrations.
Guo Xin, a Guangzhou-based analyst at Ctrip.com International Ltd, one of the country's biggest online travel agencies, said his company's own figures indicated that the growth in numbers from the mainland was even higher.
He said mainland tourists to Hong Kong increased about 10 percent during the seven-day holiday against last year, according to data from Ctrip.
"Among these visitors, the number of young people is growing," he said. "Another trend is the aim of many tourists shifted from shopping to experiencing Hong Kong's culture and lifestyle."
He said that to meet the new needs, many travel agencies had launched hiking tours, cuisine tasting events and island sightseeing. These, he said, were drawing many repeat customers.
Guo predicted the numbers of mainland visitors to Hong Kong would continue to rise in the current year.
Hong Kong's visitor numbers fell for five consecutive quarters until the fourth quarter of 2016 when the figure finally edged up for 0.4 percent year-on-year.
Ctrip data showed that bookings at some four- and five-star hotels rose more than 20 percent on the previous year.
One analyst was bullish about the retail industry, which largely depends on mainland consumers.