US-China trade tale gets twist of winners, losers in Trump's reign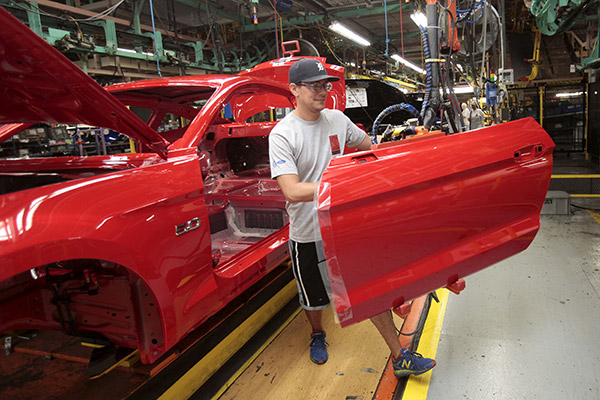 A Ford Motor worker assembles a Mustang at the company's plant in Flat Rock, Michigan, on Aug 20, 2015. [Photo/Agencies]
Analysts think any protectionist steps could also hurt Nike, GM, Ford, Tiffany
With the arrival of China-bashing Donald Trump as president in the White House, analysts are drawing up shortlists of winners and losers from any eruption of tensions between the world's top two economies.
It's still far from clear how plans will shape up under Trump, who on the campaign trail blasted trade deals with China that generated record US deficits. What is clear: China will retaliate against any protectionist steps-not only are there reported contingency plans, but the historical example of measures against Japan when tensions flared in 2012.
Widespread boycotts of American products in China could hit brands including Nike Inc, General Motors Co, Ford Motor Co and Tiffany & Co, while US sanctions would put Chinese electronics exporters such as Lenovo Group Ltd and ZTE Corp under pressure, according to Credit Suisse Group AG. Domestic competitors stand to gain from diminished commerce.
"Most people I talk to tend not to think a trade war is the base-case scenario-they treat it as a black swan event," said Hong Hao, an analyst at Bocom International Holdings Co based in Hong Kong, in a phone interview.
"I think the possibility is much larger," Hong added.
Trump has pledged to use "every lawful presidential power to remedy trade disputes" with China, including tariffs. He once broached a tax of 45 percent on Chinese imports, then denied bringing it up.
After the presidential inauguration on Jan 20, the Global Times, said Trump's speech signaled a "high possibility" of trade friction.
The MSCI China Index could fall by as much as 30 percent from current levels if the US and China impose 45 percent tariffs on each other, according to Jonathan Garner, a Morgan Stanley strategist based in Hong Kong.
In the case of more modest 5 percent tariffs, the Chinese index would be little changed from current levels, according to Garner. In December, Garner was bullish on China shares, seeing the Shanghai Composite rising to as high as 4,400 this year. The gauge rose 0.4 percent to 3,136.78 on Jan 23.
Bocom's Hong expects the benchmark Shanghai Composite Index to quickly fall below 2,800 under a full-blown trade war scenario-about a 10 percent slide from current levels. The US S& P 500 index is "too bullish" and has gotten ahead of itself since Trump's November election, Hong said. In December, he said his model projected the Shanghai benchmark would trade this year in a range 500 points higher or lower than 3,300.
From China's perspective, producers of consumer electronics, apparel and household appliances could be among the biggest victims should trade disputes heat up, thanks to their big revenue exposure to American customers, according to Reto Hess, head of global equity research at Credit Suisse.
Companies including wireless technology firm GoerTek Inc and apparel maker Regina Miracle International Holdings Ltd earn more than 70 percent of their revenue from the US, the most among stocks in the MSCI China and Hong Kong indexes, according to Morgan Stanley.
Semiconductor makers Ambarella Inc and Texas Instruments Inc lead American firms in the MSCI US index, earning most of their sales from China, Morgan Stanley's Garner said.
If Chinese consumers did boycott US brands-as they did to the Japanese in 2012 over a territorial dispute-domestic producers such as carmaker BYD Co Ltd and sportswear maker Anta Sports Products Ltd would benefit, Credit Suisse's Hess said.
Foreign, non-American brands could also win market share as a more attractive third alternative. "Chinese consumers might decide to buy a German car instead of a US car, or buy an Adidas shirt instead of a Nike shirt," Hess said.
Overall, US equities have more to lose than their Chinese counterparts in a trade war, at least in the view of Morgan Stanley's Garner. While almost 10 percent of companies in the MSCI US index derive at least a tenth of their sales from China, less than 2 percent of firms in China can say the same about the US, according to Morgan Stanley.
In a "grand bargain" in which the two sides hug instead of butt heads, Garner sees the biggest beneficiaries being Chinese energy, entertainment, technology and tourism companies, along with US telecommunications and semiconductor businesses.
A positive scenario is hard to envisage for those focused on Trump's warnings on the campaign trail.
"It's very difficult to see the Trump administration not doing anything," said David Cui, a Bank of America Corp strategist based in Singapore who has been a long-term bear on the China market. "If tensions start to build up, most likely the related stocks will get sold off."
Bloomberg