Chinese utility buys big in Brazil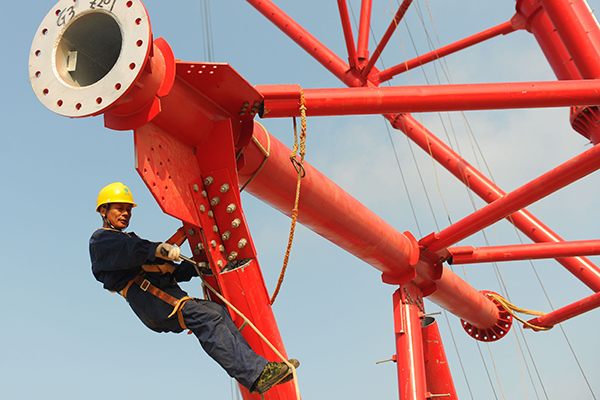 A State Grid employee works on an ultra-high-voltage transmission construction in Huainan, Anhui province. [Photo for China Daily by Song Weixing]
State Grid Corporation of China announced on Tuesday that it has taken ownership of a controlling stake in Brazilian power utility CPFL Energia SA, the largest power distributor in the country.
State Grid, the world's largest utility company, concluded the deal for a 54.64 percent stake in CPFL five months after signing the agreement for the acquisition.
Record shows that the value of the deal will total $4.49 billion, while the acquisition is State Grid's biggest overseas investment project so far.
An analyst said the deal would further boost the company's presence in Brazil.
According to Joseph Jacobelli, a senior analyst with Asia utilities and infrastructure research at Bloomberg Intelligence, the more businesses the company has exposure to in Brazil the better the synergies overall.
He also mentioned that whenever the company acquires stakes in public companies this offers a higher level of transparency of the deal to the market, while it also may place indirect pressure on the company's management given the increased public disclosure.
According to State Grid, the deal will expand its business to power transmission, distribution, new energy power generation and electricity sales.
The acquisition will bring State Grid's new energy power generation technology and management experience to Brazil, State Grid said.
State Grid, which runs the majority of the nation's electricity distribution network, has landed ultra high-voltage electricity transmission projects in Brazil earlier.
State Grid won a contract to build a 2,500-kilometer power line in Brazil that will link the world's third-biggest hydroelectric dam to the country's largest market in 2015, after winning the contract for another section of the Belo Monte transmission line one year earlier.
According to Li Lequan, deputy director of State Grid International Development Co Ltd, SGCC's subsidiary for global operations, the first phase of the Belo Monte UHV DC Transmission Project is expected to start commercial operations by February 2018.
CPFL has built itself into one of the biggest electricity distribution companies in Brazil with business covering new energy power generation and power distribution.