Economists list steps for investor confidence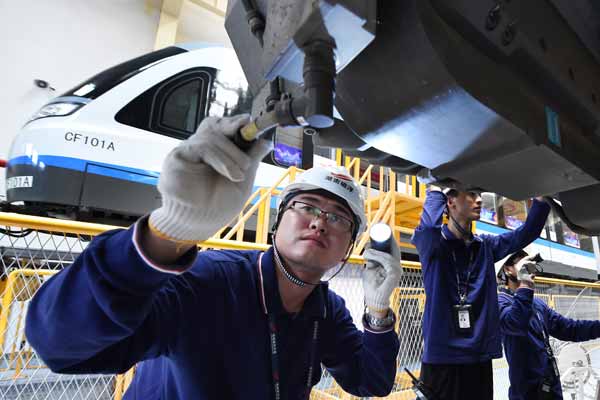 Maintenance technicians conduct checks on the maglev train before it enters trial operation in Changsha, Hunan province. [Photo by Xu Xing/For China Daily]
China's policymakers must make greater efforts to stabilize investor confidence as the country is facing the pressure of a slowdown in housing investments this year, economists said.
"Our advice for policymakers is to reduce business taxes and fees, shore up the weak spots of the economy, close 'zombie enterprises', and break the monopolies of State-owned enterprises," said Qu Hongbin, co-head of Asian economic research and chief economist for Greater China at HSBC Holdings PLC.
"This will help stabilize the confidence of private companies, prevent private investments from declining further. It will hedge against the risk of a drop in real estate investments and ease the pressure of capital outflows," said Qu at a media briefing in Beijing.
He suggested the government should boost investments in metros, urban underground utilities and measures to fight against air pollution. China could also encourage companies to increase their environmental-friendly investments by upgrading equipment to meet higher emissions standards.
Furthermore, it is important for the central government to continue streamlining its administration, delegating power to lower levels and reducing bias against privately owned enterprises in regard to market entry. This will help stabilize the economy in the short term and optimize China's economic structure in the medium and long run, he said.
Zhao Yang, economist at Nomura International (Hong Kong) Limited, agreed with Qu, saying that he expects the government to launch a more active fiscal policy which will accelerate infrastructure investments to enhance environmental protection, urban transportation, underground pipeline networks and high-speed rail.
Liu Ligang, chief China economist at Citigroup Inc, said Citi forecasts that the Chinese economy will grow by 6.5 percent in 2017, if infrastructure investments maintain a growth rate of about 20 percent, and if the growth of consumption and foreign trade will remain the same as last year.
"We believe China's policy priority will be economic stability over structural reform in 2017. Leading into late 2017, a 'steady boat' measure in economic policy is likely to be adopted to minimize economic uncertainty. This means the 2016 policy framework could be strengthened this year, with fiscal policy leading the way to achieve a 6.5 to 7 percent growth target," Liu said.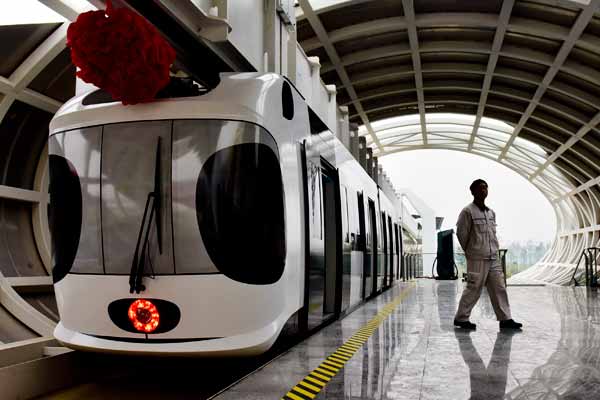 China's first Skytrain is readied for trial operations in Chengdu, Sichuan province. [Photo by Lyu Jia/For China Daily]
State-owned enterprise reform has seen modest progress in the second half of 2016. Looking ahead, he said the ongoing corporatization of SOEs will continue. However, as a result of the "steady boat" approach to economic policy this year, SOE ownership reform-the more decisive part of the reform-may have to wait till 2018.
Externally, US President Donald Trump's policies may mean more trade frictions between China and the US, but Liu and other Citigroup economists believe the political and economic stakes are simply too high for the largest and second-largest economies of the world to engage in a trade war.
"Trump's threats on China's currency and trade could mean Beijing will need to sit down and negotiate seriously with the US on market access and protecting intellectual property rights. In some areas, if interests are aligned, these dynamics could also help accelerate China's reform process," he said.