China's economy grows 6.7% in 2016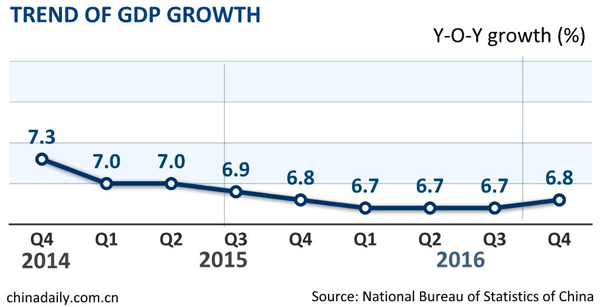 BEIJING - China's economy grew 6.7 percent year-on-year in 2016, the slowest pace of growth in 26 years but still within the government's target range set for the year, official data showed Friday.
Growth in the fourth quarter came in at 6.8 percent, accelerating from the 6.7 percent in the third quarter, according to National Bureau of Statistics data (NBS).
The government target was 6.5 to 7 percent growth for 2016.
Gross domestic product totaled 74.41 trillion yuan (about $10.83 trillion) in 2016, with the service sector accounting for 51.6 percent.
The data showed that major economic indicators softened last year, with industrial output growth slowing slightly to 6 percent from 6.1 percent in 2015.
Urban fixed-asset investment continued to cool, rising 8.1 percent year-on-year, compared with 10 percent in 2015. Retail sales rose 10.4 percent, down from 10.7 percent in 2015.