China oil cut could help OPEC to prop up prices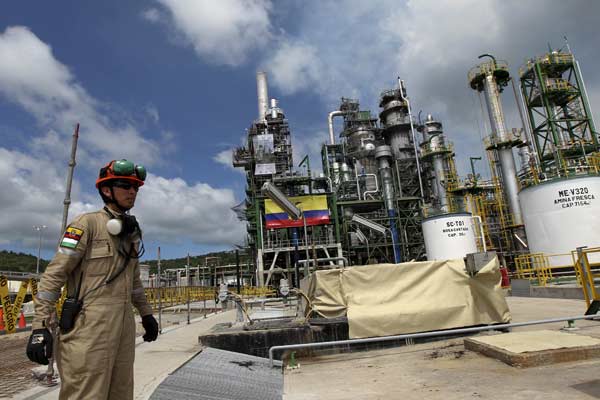 A worker monitors operations at a refurbished oil refinery in Esmeraldas, Ecuador, South America, on Dec 17, 2015. [Photo/Agencies]
OPEC's campaign to prop up oil prices is getting unlikely support from its biggest customer.
China's production is forecast to fall by as much as 7 percent this year, extending a record decline in 2016, according to analysts at CLSA Ltd, Sanford C. Bernstein & Co and Nomura Holdings Inc.
That's about the same size as the output cut agreed by Iraq, the second-biggest producer in the Organization of Petroleum Exporting Countries, which late last year reached a deal to trim supply to support prices.
"China's domestic crude output decline will help OPEC's plan to reduce global supply," said Nelson Wang, a Hong Kong-based oil and gas analyst at CLSA, who sees a 7 percent slide this year. Even if that isn't China's intention, it's just the reality that China can't produce more under the current circumstances."
While China consumes more oil than almost any other country, it's also one of the world's biggest producers, with fields stretching from offshore its southern coast to the far northeast. The collapse in prices that began in 2014 is taking its toll, and the nation's output suffered a record decline last year. That plays into the hands of OPEC as it seeks to prop up the global oil market, forcing China to depend more heavily on imports.
Brent crude, benchmark for half of the world's oil, averaged about $45 a barrel last year, more than 50 percent below levels in 2014, the year OPEC decided to tackle a global glut by keeping the taps open. The crash in prices triggered a rethink by the group, which banded together with 11 non-member countries late last year and agreed to a collective cut of almost 1.8 million barrels a day. Prices have since rallied above $58 a barrel.
China's output slumped in 2016 as State-owned firms shut wells at mature fields that had become too costly to operate after the crash. Crude production fell 6.9 percent in the first 11 months of 2016 to about 4 million barrels a day, the first decline since 2009 and the biggest in data going back to 1990.
The International Energy Agency estimates output fell 335,000 barrels a day last year as the country's biggest producers cut spending, and will slide a further 240,000 barrels a day this year. Production shrank to a seven-year low in October "with no uptick in activity expected from the major companies," the Paris-based group said last month.
Supply from the Daqing field, one of China's biggest and oldest, slipped about 3 percent last year to 732,200 barrels a day, according to China National Petroleum Corp.
Bloomberg