Little effect expected in OPEC cuts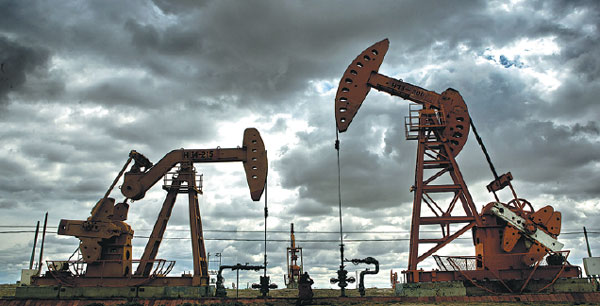 Pumps belonging to an oil company do their work in the Inner Mongolia autonomous region. [Liu Xuezhong/For China Daily]

China's limited reliance on oil likely to restrain effect of production cuts
OPEC's first agreement to cut oil production in eight years is set to push up oil prices, but analysts said it will have only a limited overall effect on the Chinese economy given the low proportion of oil in its energy mix.
The Organization of the Petroleum Exporting Countries agreed on Wednesday to cut its oil output by 1.2 million barrels per day starting next month. It is the first such concerted move by the organization since 2008 and is expected, together with Russia's agreement also to restrict oil production, to push up oil prices.
International oil prices have fluctuated around $50 a barrel recently, up from below $30 a barrel early this year. "The prices of commodities, such as coal and iron ore, have soared in recent months, and it is only natural for oil prices, even without the moves of OPEC, to move upward," said Lin Boqiang, a senior researcher on energy at Xiamen University. "OPEC's announcement to cut supply will give oil prices a big boost," he said.
Coal prices have risen by about 60 percent, and those of iron ore have more than doubled in a year. Lin said international oil prices may rise to $60 a barrel by the middle of next year.
Despite the continual rise of oil prices and China's status as a major oil importer, Lin said the effect on the Chinese economy will be "limited".
"If oil prices continue to rise, the domestic transportation and chemical industries will suffer a heavy blow," he said. "But oil accounts for only about 18 percent of the country's primary energy use and coal is the main source of energy for the Chinese economy."
Oil price increases have remained moderate so far and the effect is more psychological than substantial, he added.
Analysts also expressed skepticism about the sustainability of OPEC's action.
Although it still produces about one-third of global oil, "the influence of OPEC in the global energy landscape is weakening," said Liu Ligang, chief China economist of Citi Group.
As oil prices rise, the supply of shale oil will increase, restricting the rise of oil prices, he said.
"Therefore, the impact of oil price increases on China's economic growth will be quite slight since it is doubtful whether oil price rises would be sustained," he said.
Li Li, energy research director of energy market consultancy ICIS China, added, "Despite the fact that the OPEC deal to curb crude oil production might help bolster global oil prices in the short term, oil prices won't soar despite a recovery in the short term."
Zheng Xin contributed to this story.