Beijing's real estate sector sees price fall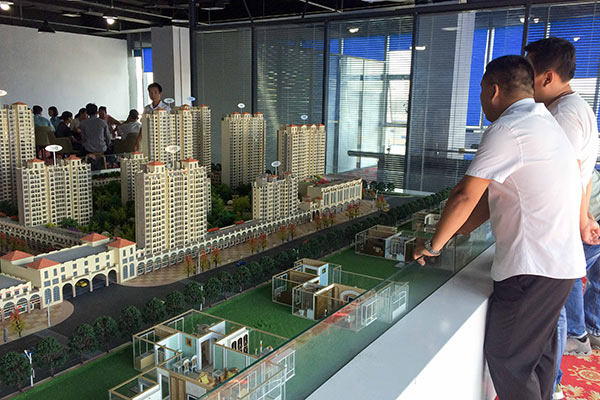 Potential homebuyers examine a property project model in Daxing district, Beijing, Sept 13, 2016.[Photo/IC]
Beijing's property market recorded a sluggish performance during the second week of this year, with new home prices down 8.63 percent from the previous week.
During the week ending Jan 15, the transaction volume of new homes in the capital city reached 1,467 unit, up 11.56 percent from the previous week, according to the Beijing Municipal Commission of Housing and Urban-Rural Development.
The average price was 40,178 yuan ($5,820) per square meter, down 8.63 percent from last week, and 12.32 percent from a year earlier.
Beijing saw zero supply again in the new home market following the last week of 2016.
When it comes to the second-hand home market, the transactions volume reached 3,137 unit, up 8.06 percent from the previous week. However, it registered a 32.61 percent decline from a year earlier.
Shijingshan district, with a transaction volume of 382 units, became the hottest region, followed by Shunyi district (289 units) and Daxing district (229 units) in the previous week.
A top Beijing official earlier vowed to reinforce restrictive measures in the capital's real estate market to ensure steady home prices next year.
"Residential homes are already overpriced, adding to risks and social anxiety. It challenges the city's sustainable development and stability," said Guo Jinlong, Party chief of Beijing.